Working From Home in Your Rental - How to Perfect Your Space
Renters Warehouse Blog
Back to Posts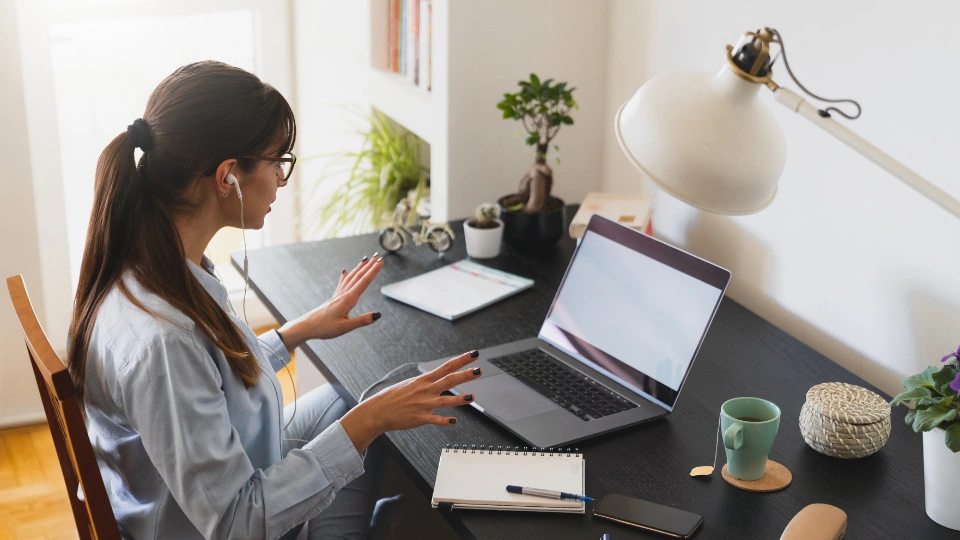 According to data from the U.S. Census Bureau, the number of people working from home tripled between 2019 and 2021. Now, just a few short years later, remote work has become more popular and a prerequisite for many job seekers. If you are working from home, you'll need to adjust your rental to accommodate your work, all while keeping the bounds of your rental agreement in mind.
Whether you work remotely full-time or just a couple days per week, having a functional office space can make those hours more enjoyable, and a lot more productive too. In this article, we'll take a look at some helpful tips and creative ideas that you can use to transform your rental into a functional workspace.
Tips to Turn Your Rental Into a Perfect Workspace
Here are some tips to make your rental's office space more comfortable if you are working from home.
1. Claim a Designated Space
There are a number of ways that you can turn your rental into a home, no matter how much space you're working with. In the same way, you can take a designated space in the house and transform it into the perfect workspace. For instance, you can convert the guest room into an office space or consider using another area in the house, like an enclosed porch or a large laundry room.
As you set up a workspace, you need to consider the following factors:
The place should be quiet (Unless you have noise-canceling headphones!)

It should be a comfortable space that you can work from for the duration of your work day

There should be enough space for a chair and desk (A small desk could work if it's a small space)

There should be nearby electrical outlets to charge your computer and phone
You can also rearrange the furniture in your house, clear off a shelf, and use these areas to work. This dedicated space will allow you to separate your work and home life. It's also ideal, especially if you live with roommates or family. Try to pick a place where the rest of the household will not distract you during your meetings or workday.
There is no rental unit too small when converting a space into your designated working area.
If you are looking for a new home, here are some tips on the Type of Rental You Should Get.
2. Repurpose What You Have
Moving to a new and bigger unit is not always an option, but making the most of your space is. The rental prices in the U.S. have been increasing in the past few years. Statista shows that as of February 2022, the monthly rent for a two-bedroom apartment had gone up to $ 1,295, up from $1,100 in 2021. So even if you don't have an extra room, you can still think outside the box and use what you have.
For instance, you can declutter and transform your walk-in closet into a tiny office. If you don't have a suitable office desk, you can use a spare table or the dining table in the house to place your laptop until you get one. Alternatively, you can use spare shelves or a bookcase to store your office supplies. To help break up your day, you could move from room to room throughout your work day. You could even use a kitchen island or a clean countertop to work.
3. Invest in An Ergonomic Chair
If you plan to invest in one item, you should splurge on a good desk chair. While some top-of-the-line ergonomic chairs cost about $2,795, you can get affordable ones starting at $100 to $400. If you'll be working for 8 hours or more each day, it's advisable to ditch the kitchen chair or sofa and get a good chair with proper back support.
Fortunately, it's easy to find an ergonomic chair online that aligns with your needs and budget. If you are not sure about the best option for your home, you can check customer reviews and ratings before making the order. Ensure that you get one with sufficient lumbar support, adjustable armrests, and a mesh back. This will allow you to stay comfortable and maintain proper posture when sitting for extended periods of time.
4. Keep the Workspace Clean
Once you pick a designated area as your workspace, you need to keep the area clean and free from distractions. To boost your productivity, ensure that the area is well organized. For instance, if you are working from the kitchen countertops or dining table, clear all the placemats and other items that could be distracting or take you out of the "work zone" mentality.
If you are using a spare room such as the storage, laundry room, or garage, it's also advisable to move things away from the table you are working at. Keep all the non-work clutter away as you work. This will help you distinguish between working hours and the rest of your time at home.
5. Lighten Up the Space
To transform your rental into a proper workspace, you need sufficient lighting. It'll help you to see what you're doing, and can also help to reduce eye strain. Some lighting is even mood-boosting and, according to some accounts, can also help to reduce anxiety, allowing you to feel your best throughout the day.
If you prefer natural lighting, ensure that you pick a house that provides this. For instance, if you are a first-time renter, this should be a key factor when looking for a rental unit. Additionally, you should consider the placement of your desk to avoid glare on the monitor screen.
However, if your current place does not have enough natural lighting, you can improve the space by getting lamps for your workspace. Alternatively, you can add overhead lighting to brighten the room if you participate in many virtual meetings. Additionally, ensure that you balance the lighting in the work area with your monitor to prevent eye strain.
On the other hand, if the room is so bright because of the sun or too many windows, consider getting curtains or blinds to reduce the glare. Choose the correct type of curtains to ensure the room stays bright enough for you to work during the day.
6. Customize the Workspace
Working in a dull workspace can lead to uninspired workdays. One of the advantages of having a home office is that you are free to set it up according to your preferences. Since you are not confined to the traditional office space, you can customize the workspace and add art, fresh plants, or prints to jazz it up, all within the confines of your rental agreement, of course.
However, as you add some fun to your working area, ensure that you don't go overboard; otherwise, the decor might become a distraction. Furthermore, if you are planning to alter any part of the house, such as the walls, you need to know who is responsible for what between you and the landlord to avoid losing your security deposit when it's time to move out. For a semi-permanent solution to decorating your workspace, consider 3M wall mounts instead of nails and hooks.
Which other questions should you ask your landlord before signing the lease? Find out!
7. Set Up a Break Area
You need to take a break at least every hour or so to be a more productive employee. Ensure that you allocate some space in your home for mental breaks. For instance, you could set up another table away from your work desk for light reading or enjoying a cup of coffee.
Alternatively, you could set up a small area to do light exercises and stretch when you take a break which is not only great for your physical health but your mental health, as well. If you work in a separate room, it's a good idea to head outside or go into a different room to take your breaks as this will help you to switch from work to relaxation mode, and vice versa.
8. Get a Folding Room Divider
If you don't have an entire room to convert into an office, you can use a room divider to create boundaries. You can use this divider to section off a part of your living room or bedroom to help you work without distractions. Room dividers come in several colors and are designed to let light through. Since they are foldable, you can put them down after a workday.
It may seem insignificant, but creating a divide between the space where you work and the space where you live is essential to "turning off" at the end of a workday. It allows you to enter the mental space of security at the end of the day, where you don't need to worry about work problems or answer the emails that come in after work hours.
9. Invest in Storage Solutions
One of the biggest challenges that comes when working from home is separating leisure time from your workday. To avoid working during your relaxation hours, consider investing in simple storage solutions. At the end of the day, you can put the laptop and other work materials in a drawer and pick them up again the following day. This will help you maintain a healthy work-life balance.
If you have space, you can get a portable filing cabinet to store all your office supplies until the next day. On the other hand, if you have limited space, consider getting tabletop storage. You can use this to place all your planners, notebooks, and other work materials at the end of your working hours to avoid cluttering the table. Of course, you could always just clear out a drawer and designate that for your work supplies as well.
10. Get a Standing Desk
Consider getting a standing desk if you struggle with concentration when working from home. Standing as you work is good for your posture and can come in handy if you are looking to improve your attention span. Additionally, most standing desks are adjustable; therefore, you have the option to sit while you work should you need it. A standing desk is a perfect addition to a house workstation.
11. Upgrade Your Internet Connection
Most suburban and urban areas come with high-speed internet services. When looking for a rental, you need to confirm whether it has the basic amenities. High-speed internet is an important amenity for a remote worker, mainly because you rely on technology to communicate with your workmates and complete your tasks.
If your minimum speed is lower, you should consider upgrading to a faster connection, especially if you have more people in the household using the internet simultaneously. Your internet should be stable enough for video conferencing and have enough bandwidth to download and upload work materials. You can get cable or fiber internet, depending on your location and preference.
12. Spruce Up the Outdoor Space
If your house has a balcony or patio, you can consider converting this into a comfortable working area. This space can become an alternative working space when you need a break from working indoors. Spruce up the outdoor area by adding comfortable seating and some potted plants to inject some life and color into the space.
Alternatively, this can be a perfect spot to unwind or read a book when you need to take a break from work. Take advantage of such spaces to motivate your mind to work from home.
13. Get a Compact Fan
If your workspace has a tendency to become overheated or stuffy, you might need to get a small fan to keep the air flowing. This will also come in handy during hot summer days. This will help you to focus on your work and prevent you from becoming distracted by the heat. If you plan to set up in the garage or laundry room, ensure that you budget for a fan to make the working area more comfortable.
14. Add Noise Reduction Features
One of the common mistakes that first-time renters make is failing to visit the neighborhood first to view the property before moving in. When this happens, there's a risk that you might end up in a noisy neighborhood, affecting your productivity and concentration if you work from home. However, you can add some home features, such as rugs, curtains, and white noise machines to soften the noisy distractions you cannot control. Noise-canceling headphones are another lifesaver when you're trying to focus.
15. Choose the Right Furniture Size
Many homes lose a lot of space due to the size of the furniture. If you plan to use the house as a multi-purpose space, you need to choose the right furniture. If you have very large pieces or too many pieces, the house will become overcrowded, making it hard to add an office chair and table.
As you shop for home office furniture, consider sleek pieces that are not too heavy or bulky. You can also measure the size of your room and use this information when purchasing the furniture, opting for multi-purpose pieces or convertible items. When you have the right pieces in the correct size, you can arrange the room without it feeling too cramped and get the most from your space.
Benefits of Separating Your Working Area in Your Rental Unit
If you are setting up a working area in your home, it can be helpful if it's separated from the rest of the house. Here are a few of the benefits that come from having a separate space:
A healthy work-life balance will help you get things done. Now that you are working in the same space, you need to reduce your distractions during the workday. Therefore, if you have an extra enclosed room in the house, or a designated working area, you can use this as your office and avoid interruptions from family members or roommates.
Having a separate space allows you to be "in the zone" during your workday. In the long run, this will maximize your productivity because you can concentrate on the tasks at hand and know when to separate work from your personal life.
You can schedule your day much more effectively when you have designated areas to work, work out, and relax. Remember to set apart some areas to stretch and take breaks between work tasks as well.
Like a regular workday, work should stop when your workday hours are up. If you allow your work to transition into your living space, you may be unable to get out of the mental zone of you as an employee versus you as a person, doing their day-to-day activities with their family.
Many remote workers find it helpful to set boundaries for their workday and having a separate work space will assist with that. You'll also feel that when you are in your designated space, you are inclined to focus and be productive in your work, while exiting this area will allow you to switch off and relax.
You'll have a more organized house by setting boundaries between work and home. For instance, if you live in a studio apartment, you can use organizers to keep your work materials away in the evening and retrieve them in the morning. It'll help to reduce clutter and keep you on track as well.
While some people are flexible and don't have a problem working from any room in the home, others thrive when there's routine, structure, and boundaries. Make sure you design a space that will benefit you and your working style, one that'll help you to feel and function at your best – all day long.
Setting up your workspace in your home is completely doable. Whether you live in a big house or a studio apartment, you can transform your space into a working area with a little creativity. Remember, if you don't have the budget to buy new office furniture or move to a bigger unit, you can start with what you currently have and invest in a good chair and table later.
If you work remotely and are looking for a new unit to accommodate this, pay attention to the property's location and the space available in the rental. Look for a place that has plenty of natural light as well. Maximize the available space and build a comfortable office space by making a few simple adjustments. As always, if you have any questions about what modifications you can make, be sure to ask your property manager or landlord for permission first.
Looking for a place to rent? Be sure to check out our available listings. Find rentals that meet your budget and criteria quickly and easily today.
---
Back to Posts