Tips for First-Time Renters - 5 Things New Renters Should Know
Renters Warehouse Blog
Back to Posts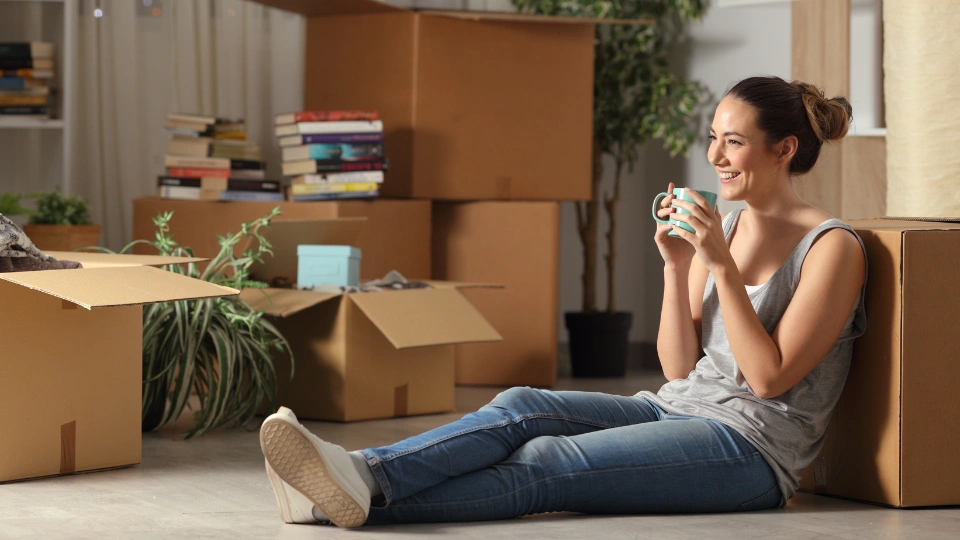 Moving into your first apartment or single-family home is an exciting experience. However, it can also be intimidating and comes with a lot of responsibility now that you are out in the renter's market. Whether you are moving out of your parent's home or just starting your career after college, making a change with your family, or looking for a new opportunity in a new city, there are many things you should be aware of as you make the transition into renting.
The joy of being a first-time renter is getting your place where you can move freely, do what you want, have your own schedule, and decorate according to your preference. On the flip side, you'll need to decide on key issues such as where to live, how much rent you can afford, moving logistics, and signing legal contracts.
For this reason, you're going to need to do your due diligence before signing that lease. While all this sounds like a daunting task, it's possible to navigate the process and score your dream rental within your budget, and in the location you want.
5 Key Tips for New Renters
If you feel stuck and don't know where to begin, here are some tips and factors you should know as a first-time renter to make the transition as smooth as possible.
You Must Have a Budget
The first thing to consider before settling on a house or apartment is whether you can afford it. One of the most common mistakes first-time renters make is looking at properties that are out of their budget. Apart from the monthly rent, you need to factor in other expenses such as the one-time security deposit, broker fees, and monthly utilities such as water, electricity, internet, and cable connection.
If the property is unfurnished, you'll need to buy items to furnish your new apartment and pay fees for amenities like parking spots and recurring costs like groceries. Failing to calculate all these expenses will cause a strain and lead to eviction when you can't meet your monthly rent.
As a rule of thumb, you should use the 50/30/20 rule when budgeting for your needs. Roughly 50% should cover necessities such as rent, 30% should be for miscellaneous expenses, and 20% for savings. Additionally, it's advisable not to spend more than 30% of your income on rent. This leaves you with enough cash for other monthly expenses.
If your budget is not enough for a rental, you can postpone and save up or get a roommate, allowing you to split monthly bills and stay within the budget.
2. The Location Is Very Important
When looking for a property to rent, it should be in a location that suits your needs. If you have to go to work every morning, the house you rent should be in a suitable area that allows you to commute easily.
If you work remotely, you can choose to live in a different state as long as the house meets your needs, but there are a few factors to keep in mind. For instance, if you are moving to live in another state, you need to know that the conditions and regulations might be different, in addition to pricing and standards.
Additionally, the unit should be in a location that works for your needs. You need to decide beforehand if you prefer living in a quiet neighborhood or near a busy street in the middle of a city. You need to have a look at the local amenities and see if they match the requirements for you or your family. Once you decide on the location, you can start searching for a property to rent.
Have a look at our search tool to begin finding the ideal property to rent!
3. Consider Your Needs
While the renting process can be overwhelming if it's your first time, it's crucial not to just pick any unit, especially if it doesn't meet your very particular needs. As a first-time renter, consider the amenities, services, and features that you will require in or close to your rental.
You can create a checklist to use when hunting for apartments or housing units until you find one that's a perfect fit. For instance, if you have a pet, you need to find an apartment that's pet-friendly. In addition, some apartments are equipped with fitness centers, pet-wash stations, or other upgrades, just remember that these will often increase the cost of the rental, as well.
When deciding on a rental unit, you need to prioritize the amenities that are most important and non-negotiable. Narrow down the different options to avoid paying a premium price for a rental.
4. Carefully Read and Understand The Lease Agreement
Before moving into your new rental unit, the landlord expects you to sign a lease agreement that spells out what's expected of you as a tenant. To sign this lease, your landlord will request specific documents such as bank statements, ID, references, pay stubs, and your social security number. Therefore, when you sign the agreement, you are legally bound by the contract, which means you understand and agree to everything.
Ensure that you understand all the terms and conditions indicated in the lease agreement, especially on the rules of renting, lease duration, and monthly payments. In addition, your lease should indicate who is responsible for maintenance issues in the unit to avoid problems in the future.
If you don't understand something in the lease agreement, it's important to clarify with the landlord or property manager, before signing the lease. If there are clauses that need to be changed, you should address that immediately. You should also note any concerns agreed on during the tour and ensure they are included in the agreement.
After signing the lease agreement, keep a copy in case you need to refer to the document. Furthermore, you should avoid relying on verbal agreements that were not written. Failing to understand the leasing terms is a major cause of misunderstanding between landlords and their tenants.
5. Understand The Rental Requirements
Getting your dream rental unit is possible if you are well prepared. The application process involves a lot of rental lingo and jargon that may be new to you. Therefore, you need to research and know exactly what you need for the application process in order to increase your chances of finding a unit in this competitive market.
In most cases, landlords only require you to complete an application and submit a credit check. You may need to find ways to check and improve your credit score before starting the application process. You might also need a cosigner if you don't have credit, a list of references, proof of income, and an application fee.
Requirements might vary between different units, but there is a general criteria that you'll need to meet. In most cases, landlords will want to make sure you earn approximately three times the asking rent or will want to make sure you have a co-signer who meets the income requirements.
Difference Between Property Managers
When searching for a rental unit, you are likely to find different types of management handling the property. You may encounter independent landlords or property managers. So, what's the difference between these types of management?
Property Management Companies
They are responsible for one or several properties and manage houses on behalf of the landlords. They are more involved with the tenants. They can handle screening of tenants, complaints, repair and maintenance issues, and move-outs. You'll communicate with them instead of the landlord in most cases.
If you rent from a landlord, you have a direct line of communication with the property owner. You'll be able to contact them directly if you have a question about your lease or if an issue arises with the property.
Want access to a database of trusted landlords? Check out our clients, and what to expect when renting with Renters Warehouse.
Questions to Ask Your Landlord or Property Manager
When landlords have an empty unit, they carefully screen their tenants to avoid getting unqualified renters. In the same way, you should ask your landlord questions to ensure that there are no concerns before moving in.
Here are some of the questions you can ask them.
What does the rent include?
Every rental property has its own rules on paying rent. Therefore, you should confirm first what specific utilities you should cover. This includes water, parking, storage, and yard care.
Do I need rental insurance?
Landlords and property managers today will ask for rental insurance. This cover is essential because it protects your personal property in case of an accident, loss, or damage. Insurance providers offer this cover at an affordable price.
What's the next step if you break the lease?
If you have to move unexpectedly and break your lease, you need to know whether there are any penalties or early termination fees. These details should be included in your lease agreement to make things easier.
The Types of Rental Units You May Find
When looking for a rental, you need to consider the type of place you want to live in. This will be determined by how many people or pets you'll be living with.
Your rental cost will vary based on how large or how small your unit is as well as the location. For instance, as of February 2022, the average monthly rent for a two-bedroom apartment in the U.S. was $1,295, an increase from $1,100 the year before.
Here are the most common types of rentals you'll encounter.
Apartments are usually located in large buildings with multiple individual residential units. Many apartment complexes have just one or two bedrooms.
The advantage of getting an apartment is that it can be less expensive and easier to move out of. But not always. However, the downside is they often have less space and tend to have strict restrictions on remodeling. Additionally, the rental rates fluctuate frequently.
A condo is a complex of buildings with individually-owned homes, while a townhouse is usually conjoined with another multi-floor home but with a separate entrance. These rental properties come with more space than apartments and shared amenities like swimming pools. However, you'll still have to share a yard or wall with your neighbors.
A duplex or triplex shares a common roof structure and wall. While a duplex houses two units, a triplex has three. These units can be on top of each other or side by side. Compared to the townhouse and condo, they have more space, a driveway, a yard, and fewer neighbors.
These properties are stand-alone residential homes that sit on an independent piece of land. Most of these properties are detached; therefore, you don't have to share a wall or yard with your neighbors.
How Can You Make Your Rental Application Stand Out?
Today's rental market is quite competitive, with U.S. Census Bureau statistics showing that the vacancy rate hit near historic lows in the first quarter of 2022 at 0.8%. Landlords are also looking for ways to reduce the vacancy rates in their properties. Therefore, if it's your first time renting a property, you can make yourself stand out to get that dream rental.
Here are some of the ways you can stand out.
Include letters of reference from your former landlords to boost your chances of getting the house. This letter shows your ability to take care of a house and reliability.





If you don't have a credit history, you can try to find a cosigner who will be able to sign the lease with you. They will be responsible for paying the rent if you're unable to.





During property tours and meetings, ensure that you are presentable and on time to make a good impression. It would be best to highlight why you are interested in the specific property to increase your chances.





If you are in a good financial position, you could also offer to pay a few months' rent in advance to assure the landlord that you are dependable and can pay your rent on time.
What You'll Need When Applying for the Rental
When looking for a house, ensure that you have these documents ready. These documents will be needed for the application process.
You need proof of identity; this can be a passport, a driver's license, or any other form of identification that can be used as proof.
The landlord or property manager will ask for this to verify that you can afford the rent. For this, you can provide a pay stub, bank statement, tax return, or letter from your employer. This increases your chances of getting the house.
You can get a reference letter either from your previous landlord, property manager, or, if it's your first time renting, your supervisor at work. This letter will confirm that you are a reliable tenant and can pay your rent on time.
When filling out the application form, you need to pay a fee that covers background and credit checks.
What Do You Need On Your Moving Day?
Once you've met all the requirements and signed the lease, it's time to move into your first rental property! Here are the key things you need to know.
You need the company's contact information if you need to pay for your own water, electricity, and other utilities. You can contact them beforehand and make the payments to ensure that your services are paid for before you move in. This makes the moving process more manageable, and you can settle in the new house much faster.
Before moving, ensure that you have moving boxes ready to pack all your essentials. You can source these early on before it's time to move.
If you are moving to an unfurnished house, you'll need furniture and other essentials. While budgeting for these large expenses, factor in basic necessities like cleaning supplies, utensils, bedding, and toiletries.
Finalizing Your Search for a New Home
Moving into your first rental unit takes a lot of time and effort, and extensive preparation. As much as it's exciting, you also have a huge responsibility to ensure you get the place and that everything runs smoothly once you're in there.
During the search, don't rush the process just to get what you believe to be the best deal. Although getting a good rental property may take a while, it will be worth it in the long run knowing you're situated in a place that feels like home with all the necessary amenities to meet your needs.
Looking for your first rental property? Check out the list of available rental homes in your area. If you see something that you like, you can submit your lease application today.
---
Back to Posts