Moving In or Out? Tips for Tenants On Combating Moving Expenses
Renters Warehouse Blog
Back to Posts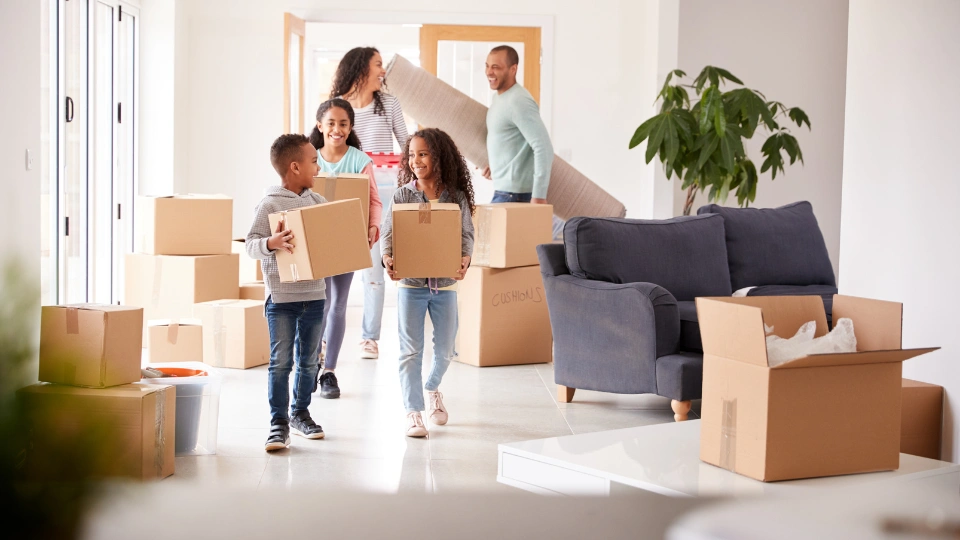 Moving into a new property can be exciting. However, it can also be costly, regardless of whether you are moving to a new area or just across town. The logistics and preparation for making a move require a bit of financial planning to ensure you don't spend your hard-earned cash on unnecessary expenses.
But how can you combat these moving expenses? Whether you're moving out of state or just going down the road, there are a number of creative ways that you can combat moving expenses and manage your moving budget.
What Does a Moving Budget Look Like?
That depends! All moving budgets look differently, depending on a few different factors. This includes how much help you'll need to enlist and how much you'll be able to take on yourself. A great deal will also depend on how far you're going, and whether you'll be shipping your belongings out or driving them over yourself. Finally, the cost will also vary depending on how much you have to move. A few boxes will cost a lot less than an entire container full of goods.
Whether you are moving into a rental for the first time or moving from one rental to another, there are some standard costs that you'll need to factor into your budget:
First and foremost, your moving budget should include packing materials. Even if you have professional movers helping you, you'll still need to pack some things yourself, such as clothes, electronics, important documents, fragile items, and other valuables.
You'll need packing supplies like bubble wrap, plastic wrap, packing paper, boxes, and markers for labeling. To make things easier, you can label every box with the room that it will be going to. This will make unpacking easier once you get to the next house.
Professional movers can come in handy, especially if you have a lot of heavy items. Although it's an added expense, professional movers can save you time and energy.
Another advantage of professional movers is that they often include expenses such as packing supplies, the moving vehicle, and fuel.
If you plan to use professional movers, keep in mind that the actual cost may vary depending on different factors, such as distance. The average cost of moving in the U.S. within 100 miles is approximately $1,400, ranging from $800 to $2,500. However, if you are moving longer distances, the average cost could range from $2,200 to $5,700. Apart from the distance, there are other factors that could affect the price as well:
Origin and destination locations

The type of transport you want

The type of goods you have
Some companies allow you to submit a request for a price online, and then follow this up with an in-person follow up. This will help them to gauge the job and provide an accurate quote. If you have time it might be worth comparing quotes from different moving companies to get the best deal.
Occasionally, you might need to put some of your belongings into storage before moving into a new place. For instance, if you are downsizing and moving to a smaller house, you might have more items than you have room for. If you are planning to do this, you need to factor in the cost of storage into your budget as well. If you have time, you can compare the rates for different storage facilities before making a final decision. This way, you can choose the most affordable option.
It may not be the most glamorous part of the process, but it's important nonetheless. Whether moving in or out of a place, you'll need to clean the property. Before moving out, check your lease to see what it says, you may need to deep clean the property as part of your move-out checklist. This allows you to ensure that the house is left in good condition, as close as you can get to the way it was when you moved in.
Additionally, if you are about to move into a new place, one of the ways to make your rental feel like home is by cleaning. This will give your house a new lease of life and make the space more enjoyable. You can choose to do the cleaning yourself or hire professional cleaners.
Most renters overlook the importance of moving insurance. But as we all know, accidents can happen, no matter how careful you are. If you opt to do the move yourself, your homeowner's or renter's insurance policy may cover the cost of items that are lost or damaged in the move, but if your policy doesn't cover this, then you'll want to think about getting this insurance. If you opt for professional movers, check to see what insurance options they offer. If you choose a policy, make sure you get the coverage details in writing.
As you move into a new house, most landlords will require a security deposit. This will usually be equivalent to one to two months' rent. While not part of the moving costs, it's an expense you'll incur around the same time as the move so you'll want to make sure you've factored it into your budget. If you're leaving another rental and expect to have your security deposit returned to you, it's important to note that this could take some time. For this reason, it's a good idea to have enough saved up separately to cover the deposit.
If you are moving home, here are some more Things to Consider Before Signing a Lease.
Tips to Combat Moving Expenses
Now that you are aware of all the expenses you might incur when moving home, how do you manage them to help keep costs low?
Plan Your Move In Advance
The earlier you start planning your move, the better. This will give you ample time to research and compare moving companies, find the best deals on packing materials, and take advantage of discounts.
Declutter the House Before the Move
Moving is the perfect time to get rid of any unwanted items. Go through your belongings and decide what you can sell, donate, or discard. This will not only reduce the amount of stuff you have to move, but it may also help you earn some extra cash as well. You can sell these items online on places like Facebook Marketplace.
You can save money by clearing out the broken, unused, and unnecessary items in your house. Decluttering helps you cut down on the number of boxes you'll need to pack and may well lower your transportation costs as well.
If it's your first time moving into a house, read our article on - Tips for First-Time Renters - 5 Things New Renters Should Know.
At the very least, you'll need some boxes and bubble wrap, regardless of how much stuff you have. You can get these packing materials from a moving company or buy them yourself. Some moving companies include the cost of these packing materials in their service fees, while others might charge you separately. Either way, you need an estimate of how much this will cost to help you prepare your moving budget.
If you have time, you could save some money by reusing boxes and packaging from packages you receive. You can also look on community forums or social media and ask if people have any leftover boxes. Some people may be willing to sell them for a reasonable price, or may even be giving them away free.
Moving costs can be expensive if you don't negotiate. If you rent a moving truck or go with professional movers, don't be afraid to politely ask if there are any discounts or specials that they are running, or if they have any tips that can help you to save. If you're speaking to a representative, and they turn down your request for a discount, you could always ask to speak to a manager. Sometimes they may have the authority to give you one.
Don't forget to cancel your utilities at the old place in advance. This will protect you from being charged twice once you sign up with new utility service providers in the new place. Save money by looking for providers that offer promotions and discounts for new customers. If you're moving locally, you can ask if they can just transfer your account to your new place.
Some moving companies have discounts for students, seniors, and military personnel. During your research, find out whether you are eligible for any of these discounts and use them to reduce your moving expenses.
You may be able to save money by scheduling your move ahead of time. Sometimes moving companies will charge more, the closer you are to the moving date.
Consider Using a Coupon App
Another good way to secure discounts is by looking for a coupon app. These apps can help you to sort through discounts and find available coupons that can help you to save, and show you which company is offering the best discount.
Ask Friends or Family for Help
Instead of hiring professional movers, consider asking your friends and family if they would be willing to help you pack. While this is only an option if you have close friends or family nearby, it's one step that can save you a great deal of time and money. Likewise, if you're just moving locally and you have a friend who has a truck, you can always ask them if they'd be willing to help you move some boxes and furniture across town.
Avoid Moving During Peak Times
Most people tend to move during weekends and holidays when they have some free time. During this time, the cost of hiring movers is usually higher due to increased demand. If you can, try to plan your move during off-peak times, like in the middle of the week.
To save money, consider a do-it-yourself move by renting a truck or trailer instead of professional movers. This can help you to save even more. Just make sure you have the time and energy to go this route.
Finally, keep vigilant and avoid scams. If something seems too good to be true, there's a good chance that it is. Just because a moving company is offering an excellent deal, doesn't mean that they are reputable or insured. Always make sure the company you go through is licensed and insured and has been well-reviewed online. If you're stuck, you could always ask friends or family if they have any firsthand recommendations.
The costs of moving home can add up. However, you do have options and if you plan ahead, you can keep expenses down to a minimum. Planning ahead will give you time to search out the best deals, secure discounted boxes and packing materials, and even see if friends and family can help you. The costs of moving can vary considerably, but they can be kept to a minimum depending on how well you plan and what you are comfortable doing yourself.
Looking for more tips for tenants? The Renters Warehouse Resident Resources section is packed with tips and advice to help make renting as straightforward and hassle-free as possible. You can also view available rental homes to see a list of rentals in your area today.
---
Back to Posts