The Best Deep Clean Tips Before You Leave Your Rental
Renters Warehouse Blog
Back to Posts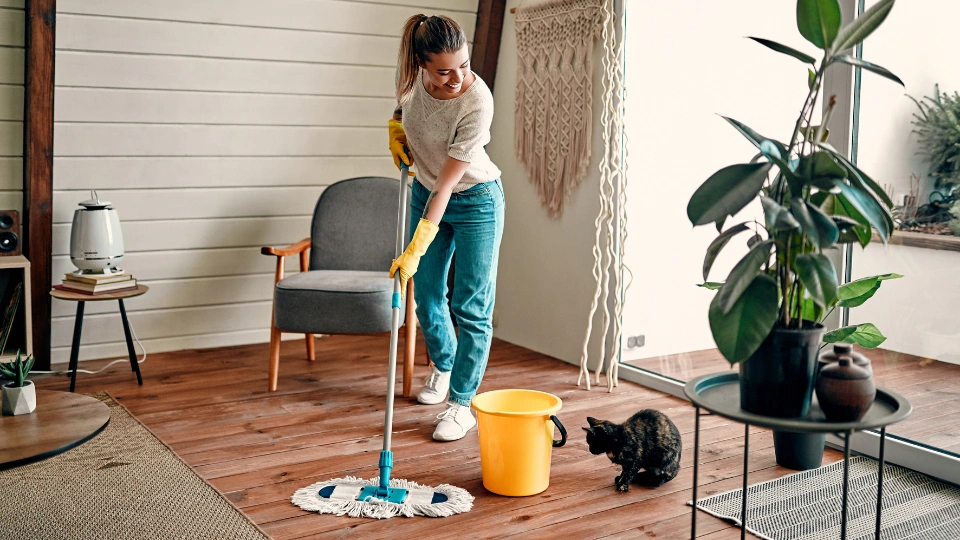 Moving house can be exciting.
It can also be stressful, as anyone who's had to hold down a job, look after things at home and try to juggle packing, sorting out paperwork, and arranging for a move (all at the same time!) can tell you.
But amid all of the excitement, there's one additional yet important consideration you'll want to keep in mind: your security deposit, the funds that you paid your landlord as a form of security at the start of your tenancy. In most cases, you should be able to get this deposit back, but most lease agreements stipulate that, as a tenant, you should leave the house in the same condition that it was in when you moved in. This usually means that you'll want to have the property cleaned before you vacate. If the property was professionally cleaned when you moved in, then it's especially important to make sure it's to that standard as well.
While some tenants clean the place on their own, others opt to hire a cleaning service to bring the rental back into shape. Whether you have been living there for a few months or several years, here's a look at how you can go about cleaning the rental before you go.
Cleaning Tips When Moving Out of Your Rental
When it comes to cleaning your residence, here are some tips you'll want to keep in mind:
Check Your Lease (Or Talk to Your Landlord or Property Manager)
Most landlords, agents, or building managers will have a checklist of what they expect or what is required before moving out. They use this checklist to inspect the house for damage or cleanliness. You might get a copy of this checklist as you sign the lease, so it's a good idea to check your lease again if you're not sure, just in case this process is documented there. If there's nothing in your lease, then talking to your landlord or the property manager can help to highlight areas that you should focus on. This will help you to ensure that you do a great job and will help you to get your entire security deposit back.
Clean in an Orderly Manner
As you prepare to move out, you should clean in the same way you do your spring cleaning. One of the best ways to do this is by cleaning from top to bottom. Using this method, you start with the top cupboards, surfaces, ceilings, fans, light fixtures, and shelves before moving to lower surfaces like floors. Once you have dusted the top surfaces, you can vacuum or mop the floors to leave the house spotless. This is by far the easiest approach as all of that dust and dirt will fall from the top regions of the room to the floor for the final stage of your clean up.
Clean in Stages
The cleaning process can be overwhelming, depending on the type of rental you live in. However, you can simplify the process by cleaning in stages. If you have a big house, you could start with the areas you least use, such as guest bedrooms and finish the rest of the house as the move-out day closes in. This will allow you to cover all areas and ensure that each room is cleaned thoroughly. Likewise, it's a good idea to begin bigger projects earlier rather than later. For instance, it might be an idea to clean out those messy closets or the garage before you tackle the main living areas, as these areas often harbor dirt and clutter and can require more time to sort out.
Plan for Last-Minute Cleaning
Even though you should start cleaning before the move-out day, some areas will need cleaning right before leaving. You might need to clean areas like the bathroom on the last day. Additionally, after your furniture and packed boxes are moved out, you may need to sweep or mop the floor one last time.
Move-Out Cleaning Checklist
The above points will help you get the ball rolling as you plan to depart your rental. In addition, having a move-out checklist will help to guide you through more of the specific items you need to deal with before you leave so you don't forget anything.
Here's a few areas of consideration:
During your lease period, cobwebs accumulate in different parts of the house. You use a broom or vacuum to pull down the cobwebs.
Dust the Blinds and Vents
If you have blinds and vents in your house, you can use a microfiber cloth or vacuum with attachment to clean them. Shut the blinds and run the cloth over from top to bottom to catch all the dust. Then, to clean the reverse side of the blinds you can shut them with the opposite side facing you and again clean from top to bottom. You can vacuum up any fallen dust afterwards.
Remove Nails and Screws From the Walls
One of the ways to convert your rental into a home is by adding some artwork and creating a gallery. If you used nails or screws to hang the artwork or shelves (with your landlord's permission, of course!), remember to remove them and patch up the holes before leaving.
As part of your checklist, you should clean your windows using a window cleaner. Spray the solution onto the window and wipe it down with a lint-free cloth. Also, ensure you dust off the window handles, ledges, and locks to leave them spotless.
A cloth with a little bit of dish soap or spray cleaner can help you wipe stains from the wall. Go over any areas that look scuffed or marked, spot cleaning as you go.
You should also check if any light bulbs have gone out and replace them. Take time to dust the fixtures and clean the light switches. If you have tall ceiling lights, you can use a duster with an extendable arm to wipe off any dust.
Before moving out, you should ensure that the smoke detector has working alarms, especially if you found it that way when you moved in. If the smoke alarm is beeping, the batteries need to be replaced. Fortunately, most smoke detectors come with a test button that you can use to check the battery life. If the signal is weak or not there, it's a good idea to get some new batteries before leaving.
If your carpet has stains, you can remove them by using a commercial carpet cleaner. While vacuuming might get the job done in some low-traffic areas of your home, you should consider having the carpets professionally cleaned or renting a carpet cleaner to hit those high-traffic areas. You might be surprised at just how much dirt has piled up over time.
Mop and Vacuum the Floors
Once you are done with the above cleaning steps, the last thing to do is to clean the floors. You can save this for the last day after you have cleaned all the surfaces and other areas. Once you remove all the furniture and boxes, you can focus on giving the floors one final sweep, mop, or vacuum.
How to Deep Clean Each Room When Moving Out
Now, let's walk through your rental room by room taking a look at some tips for cleaning each one.
Kitchen
The kitchen is one of the hardest places to clean; therefore, you should probably start there. The common issues in the kitchen are grease, stains, and food crumbs. Here are the areas you should focus on to deep clean your kitchen.
Clean the Cabinets: Remove everything from the cabinets and wipe the shelves with a damp cloth to eliminate dust and food crumbs. Don't forget to wipe the top of your cabinets.
Deep Clean the Fridge: To clean your fridge, remove all the contents and dispose of the expired items. You can wash the fridge drawers in the sink if they fit or wipe them using a cleaning solution. One of the best methods to clean your fridge is mixing baking soda and water in a spray bottle and using this solution to clean the interior and exterior.
Clean the Oven and Stove: To make your work easier, you can use the auto-clean setting on your oven to clean. Alternatively, you can wipe the oven using a water and baking soda solution. Be sure to unplug burners and clean out from underneath them as well. Finally, once the oven is dry, spray distilled white vinegar and wipe the oven clean until there are no signs of grime. You can also call in a professional oven cleaner if your oven really needs help.
Clean the Dishwasher: You need to remove the soap scum spots on your dishwasher. Pull out the drawers and scrub them using soapy water. Remove the filter from the dishwasher's bottom and scrub it clean. Once you clean the inside, you can put it all back.
Sanitize the Sink and Disposal: Use baking soda and distilled vinegar to clean the disposal and sink. Let the mix sit for at least 15 minutes and rinse with hot water.
Clean Countertops: Use an all-purpose cleaner to wipe your countertops. If there are any stains, you can clean them using a paste of vinegar and baking soda and then wipe them off.
Once you have cleaned all the surfaces and appliances, you can mop the floor.
Living Room
The living room can be problematic to clean because it is generally a high-traffic area. You can wait until you move your furniture out of the house to clean the living areas. Remember to clean the room in stages as mentioned above. Depending on the type of flooring that you have, you can vacuum the flooring, wash and mop your hard floors and also dry them if they are wood. If there are any stubborn stains or marks, you may want to consider using a professional cleaning service.
Bedrooms
The bedrooms are often much easier to clean than other rooms, but that doesn't mean you should give them less attention. Confirm with the landlord if you need to clean the carpets professionally or if you can just vacuum them. To clean a bed mattress you can remove all sheets and protectors and vacuum it and then spot clean any stains. You can open a window to air the room as well.
Bathroom
The bathroom is one of those often-used rooms that you may want to save until the end. Before cleaning the bathroom, box up all the toiletries, towels, and cosmetics.
Here are the main parts of the bathroom that you should clean:
Disinfect and scrub the toilet: Before moving out, ensure that your toilet does not have visible rings. Scrub the toilet bowl with a disinfectant or bleaching agent and wipe it down. Clean inside and out.


Scrub the shower or bath: If you have grime or limescale on your tub or shower, you can get rid of the build-up by using products such as dish soap and vinegar to help leave the bath in its original state.

Clean the sink: Wipe the sink down, removing all soap scum and stains from the basin and clean the faucets. Clean the faucets and dry them to avoid watermarks and keep them shiny and clean.

Polish the mirrors: Use a glass cleaner to remove streaks and fingerprints on the bathroom mirror. Once you spray the cleaner on the surface, you can use a dry lint-free cloth to wipe it clean.


Mop the floor: Once you've cleaned all the surfaces, you can remove debris using a broom or vacuum and then mop the floor using soapy water.
Outdoor Space
Don't forget about the great outdoors! If your rental has a balcony, garden, or private outdoor patio, ensure that you remove all your personal items before cleaning. Remove any dirt or debris on your sliding doors and spot-clean the balcony to remove any residue and stains. Additionally, you can mow the lawn and brush (or use a leaf blower) to remove leaves from your patio.
Should You Clean the House Yourself or Hire a Professional Cleaner?
To ensure that the rental is properly cleaned before moving out, you can do it yourself or hire a professional service. Here's a look at both options:
DIY Cleaning
If you choose to clean the house yourself, here are some pros and cons.
Pros:
You Can Clean in Your Own Time: If you plan to move out in two weeks, you can spread out the cleaning sessions throughout this period. For instance, you can tackle a room each day or clean it in the evenings, doing a little bit whenever you get some spare time.
You Can Use Your Preferred Cleaning Products: Some of the things you need when renting are cleaning supplies. When cleaning by yourself, you don't have to spend extra money purchasing additional cleaning products; you can use what you have at home.
It Saves You Money: Moving is expensive. Instead of spending more money on a professional cleaner, you can use the cash for other services you may need.
Cons:
It's Time-Consuming: If you are busy at work, you might not have the time to do a proper deep clean.
The Cleaning Process Can Be Overwhelming: The tasks will add up if you have not been deep cleaning the house regularly. Therefore, it might take much longer to clean from top to bottom if you do it yourself.


The Work is Subpar: Let's be honest, if you're not a professional cleaner who is trained and practiced in proper cleaning, your cleaning will be surface level at best. If your household isn't that messy, this might be sufficient. But if you've been in the unit for a handful of years, you might want to consider hiring a cleaner.


Hiring a Professional Cleaner
A professional cleaning service also comes with some benefits and downsides.
Pros:
Saves Time: One of the main benefits of hiring a professional cleaning service is saving time, allowing you to focus on other things. For instance, you can focus on the move to your new rental and let the professionals handle the cleaning of the old house.
You Save Money on Supplies: With a professional, you don't have to buy cleaning supplies. The company comes in with the right equipment and products to deep clean every part of your house, and this cost is covered in the total cleaning fee.
They Are More Experienced: Professional cleaners add a layer of detail and are more likely to catch all the spots you missed. They pay attention to every part of the house to ensure it remains spotless.
Cons:
It Costs Money: Since they are skilled professionals, you have to pay them for the cleaning service. This might cost you quite a bit depending on how much the company charges.
You Have to Vet the Cleaners: Before hiring anyone to clean your house, you need to confirm that they are the right person for the job. You'll need to set aside time to find a reputable company that can help you with your cleaning.
Deep cleaning your house before moving out is important, especially if it's outlined in your lease agreement. If you're not sure about the level of cleaning that's required, consult the property manager or the landlord and get a checklist of the key areas to focus on. Once the house is clean, you can move to the next rental without any issues. It's time to start the next chapter! Here's to exciting times ahead!
Looking for more tips for tenants? Check out our Renters Warehouse blog. Our Resident Resources section is packed with tips and advice to help make renting as straightforward and hassle-free as possible. You can also view rental homes to see a list of rentals available in your area today.
---
Back to Posts