Renovations That May Be Worth Doing
Renters Warehouse Blog
Back to Posts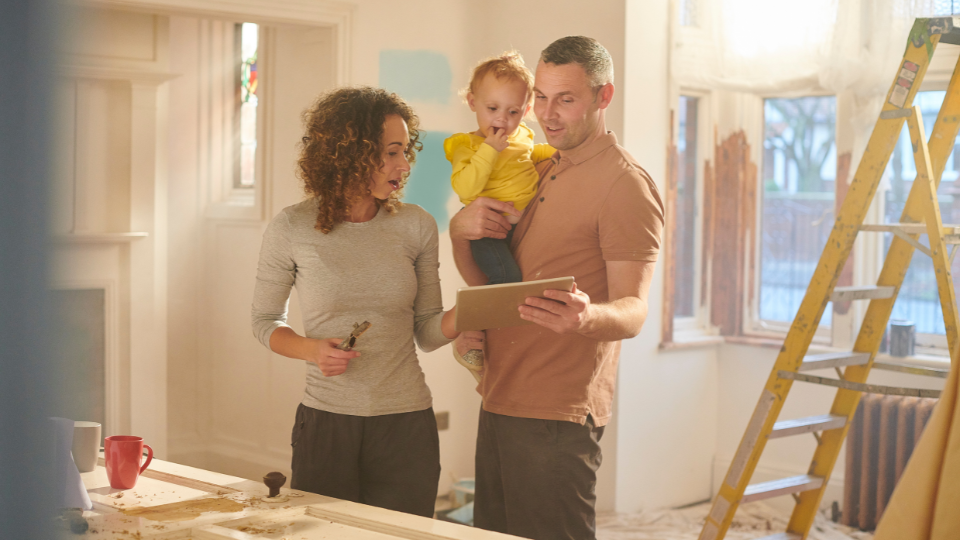 Looking to rent your property faster, keep tenants longer, and cut back on repairs and maintenance costs? Aren't we all! Fortunately, though, there is something that you can do that can help with all of the above: doing certain renovations or upgrades.
Yes, in some cases excessive upgrades can be a waste of time but other times, they might be just what you need to give your rental an edge above the other properties that are out there, and in some cases, to help it rent faster as well.
If you're wondering whether to go ahead with some renovations or upgrades on your property or if you should hold back, here's a look at some upgrades that might make sense for your rental. Just remember to keep in mind that each property is different, and you'll want to run a cost-benefit analysis before you splash out on any major upgrades. Still, it's a pretty safe bet that most of the following are basic yet important things that you can do to help spruce up your rental and improve its curb appeal as well.

When to Skip Renovations and When to Do Them
When it comes to rental renovations, it can be tempting to skip over a lot of them. After all, renovations can be costly and costly renovations can eat into your profit.
However, that isn't always the case. While it's true that some renovations can be costly upfront, in some cases, they can boost your returns over the long run. This can happen in a number of different ways. First of all, renovations and upgrades mean that you'll have fewer maintenance and repair requests from your tenants. Consider a new washer and dryer set, as opposed to appliances that have seen better days. If you're trying to save money, then you may want to just go with what's there already. But the downside is you'll probably be getting repair requests for the appliances on a fairly regular basis. Other ways that renovations can boost your profits is by boosting the value of your rental, and your asking rent. While this isn't the case for each and every renovation, as a general rule, the better the condition that your property is in, the higher your asking rent can be. Another consideration is that doing the occasional renovation or upgrade can help to boost your tenant's satisfaction, and happier tenants are more likely to stick around longer as well.
So when should you move forward with a renovation and when should you postpone it? That depends. As a general guideline, anything that compromises safety or livability should be done promptly. Maintenance and repairs should always be done in a timely fashion as well. Anything that is cosmetic or simply adds convenience can wait. Anything that is necessary to keep the property in the condition that it was in when the tenants arrived should also be done. For instance, you can rent a property without a dishwasher. But if your current tenants had moved in when there was a fully functioning dishwasher, then you should repair or replace it if it goes out during their tenancy.
So when does it make sense to splash out for a cosmetic upgrade? Many landlords also look to keep their properties in the same or similar condition that the other homes in the neighborhood are in. This means that if the neighbors all have granite countertops and hardwood floors, then you may want to think about getting those for your rental as well.
Of course, it's important to run a cost-benefit analysis before you move forward with any renovations or upgrades. Calculate the cost of the renovation and weigh it up against your potential returns, taking into account the higher rent that you (realistically) believe you can charge, coupled with a reduced vacancy rate as well.
For example, a new breakfast nook might add extra usable space to your rental, making the house more desirable, and you've spoken to a property manager and they believe you could charge an extra $200 per month if you do this upgrade. The cost of upgrading this space will run you $1,200. You estimate that after 10 months, the upgrade will pay for itself. In this case, this is one upgrade that might be worth doing.
Looking for renovation mistakes to avoid when it comes to your rental? Read: Renovation Mistakes on Your Rental...And How to Avoid Them, to help avoid costly mistakes.

Now, let's go through some of the more common upgrades and basic renovations that you can do to your rental, things that will often help to boost your rental's value and appeal to renters.
Install New Flooring
New flooring is something that can give your rental unit a completely new look. It can help open the space up and can help it to feel fresh and clean. This is an important upgrade if your current flooring is worn-out carpet. Dirty, worn carpet or flooring can decrease your home's value and you're unlikely to attract great tenants if this is the case since anyone who cares about the condition of the home will steer clear of the place. While flooring has the potential to be expensive, there are options that can help reduce the costs and still leave you with durable flooring that looks nice.
Flooring options have come a long way in the past few years and there are many affordable options out there today. One good option for rentals is hard-wearing vinyl. Vinyl plank comes in different styles so you can get the look of hardwood floors with the durability and water resistance of vinyl, a perfect combination for any rental unit. You can carpet the bedrooms if you'd like, but try to keep carpet out of high-traffic areas.
Give It a Coat of Fresh Paint
Okay, okay. Painting isn't exactly renovating. But it's one of those jobs that can make such a difference to a space, so we had to include it here. A fresh coat of paint can go a long way toward helping a space to look and feel new. Try to stick with neutral colors throughout the house. Bright colors can be off-putting to potential tenants since not everyone has the same tastes. Whites or neutrals like taupe or greige are usually best. This looks stylish and sophisticated and will give your tenants the backdrop they need to add their own flare and style.
While painting the walls is often the first thing that comes to mind when it comes to painting, you should also consider painting the baseboards and ceiling to give a rental a much-needed refresh. If the trim is painted, you might consider repainting that as well.
Update Outdated Light Fixtures
Updating lighting can change the entire room. Swapping out those old, dated light fixtures for something fresh and modern can have a big impact on your space. Simple light fixtures can be inexpensive but can go a long way toward improving the look and feel of a home. Don't have time or budget to replace fixtures? No worries. Just replace the bulbs. Swapping out energy-using incandescent bulbs with LEDs can help your tenants to save on their electric bills. Just be sure to opt for bulbs that are on the warm side of the spectrum, as they'll help to increase the warmth and coziness in a space.
If you haven't installed lighting fixtures before, you may want to consider hiring a professional to help you out. As long as you have everything lined up an electrician should be able to knock it all out in a couple of hours and then you will have peace of mind knowing it has been done properly.
Do Some Basic Bathroom Upgrades
Complete renovations can be costly, especially when it comes to the bathroom or kitchen. However, there are ways around a complete renovation. If the bones of the bathroom are in good shape (floors, showers, bathtub, etc.) then you might be able to get away with some simple upgrades. Consider replacing broken or old toilets or at the very least, the toilet seat. Replace that outdated hardware with some new hardware that matches. Swap out mirrors and vanities if they are old, dated, or broken. Keep in mind you don't need to go with the most expensive pieces available, look for good, solid pieces that are within your budget. You'll also want to update the lighting in the bathroom. Adding side lighting to the mirror can make a big difference. A new shower curtain is another cost-effective update. While you're at it, don't forget to add fresh caulk around the sinks and shower. Keep in mind that bathroom remodels can add up fast, so beware of what really needs to be updated and what can wait.
Upgrade the Kitchen Cabinets
If your kitchen looks like something straight from the 1980s you might want to invest in a few upgrades. While a complete kitchen renovation is an expensive project, some small upgrades, such as cupboards (or at very least, cupboard doors!) can have a big impact on the style and feel of the space. If you aren't able to replace the cupboards or doors completely, you might consider a paint job and some updated hardware. You might be surprised just how much of an impact some paint and knobs can have. See these helpful tips on painting kitchen cupboards from The Family Handyman.
Add a Backsplash
Another way to help boost your kitchen without doing a complete overhaul is to add a backsplash. A new backsplash can add a bit of an updated appeal without the cost of a complete renovation. Don't feel like you have to go all out with the backsplash or break the bank, there are plenty of options that can add a bit of luxury to the space without the cost. A backsplash can also help add an extra layer of protection to your walls, making it a win-win.
New Countertops
New countertops can be costly, but if your countertops are showing severe signs of wear, then this is an upgrade that could be worth doing. When it comes to choosing a material for your countertop there are a few things you should consider. The first one is cost. Laminate countertops are budget-friendly and easy to replace. However, they aren't resistant to heat or cuts and in a rental and could need to be replaced more often. Something you should consider is the rest of the kitchen and home. If the rest of the kitchen is outdated and you don't have plans to upgrade soon, installing a quartz countertop might look out of place. The best material really depends on your budget and the style of the rest of the property. Still, while going with a higher-quality material can be expensive, it might be worth it in the long run since it is more durable and resistant to scratches or burns. Quartz is one of the most durable options but marble and granite can also be good options for some upscale rental homes.
Spruce Up the Your Exterior
Curb appeal matters, so you may want to consider sprucing up the exterior of the rental as well. You should prune back trees and bushes, mow the grass, and make sure everything is neat and tidy. If the place is looking a bit drab, you may also want to consider adding in some basic landscaping as well. A few low-maintenance bushes and some flowers in pots along the front steps can go a long way toward helping your space look its best. You may also want to pressure wash the roof and siding. While you're at it, consider getting a new doormat and some new house numbers.
Add Smart Features
Smart features can be an especially helpful upgrade if you are hoping to attract Millennials. Adding smart features, such as a smart thermostat or lighting can be an easy way to help your house stand out from the competition. In urban areas, apartments, and luxury homes, many people have come to expect smart features, and not adding them can knock you down a few pegs when it comes to attracting potential tenants. In most cases, smart features don't cost that much to install.
Looking for more renovation ideas to help attract tenants? Consider reading: Easy Design and Renovations to Attract Tenants, for some more budget-friendly ideas.
Consider New Doors
Another thing you might consider is installing new doors, both interior, and exterior. Doors tend to wear out in rentals, especially ones in high-traffic areas. If you aren't ready to replace the front door or it isn't in the budget, you might consider giving it a fresh coat of paint. A little paint, in a tasteful color, can go a long way in adding a little extra boost to your rental. Or, consider upgrading one or two doors at a time to help make the costs more manageable.
Update Hardware and Fixtures
Nothing dates a place quite like old or outdated hardware. If you are looking for a quick way to improve the look of your rental without spending a lot, then you might start with updating the hardware in your entire house. This can be anything from the faucets in the kitchen and bathroom to the outlet covers. You might also consider replacing the vent covers as well. While the might sound like a simple thing, it can go a long way in boosting the look of your rental without spending a lot of money.
Consider Convenience
Having laundry facilities at your rental can help to make it more appealing as well, so you may want to consider installing a washer and dryer, or washer-dryer unit in your rental. Also consider a dishwasher, something that'll make your rental more appealing to busy families.
At the end of the day, you can spend as much or as little as you'd like on repairs and upgrades, but in some cases, they're worth doing. Anything that allows you to maintain the livability of the home or is important from a safety standpoint should be prioritized. Things that will help to stave off maintenance and further repairs down the road should also take priority.
Sure, renovations can be costly, but they don't have to be. If your budget doesn't allow for costly upgrades, consider starting small. Look for simple things that will add value to the home, and try to make upgrades that will enhance its overall appeal and value. Even small changes can make a big difference, in some cases, allowing you to increase the amount of rent you can charge and helping to draw in high-quality tenants.
Looking to outsource your rental management? Then you need a property manager. Get started with Renters Warehouse today and see how outsourcing can save you a great deal of time and stress. Start with your FREE Rental Price Analysis, and see how much you could be getting for your rental.
---
Back to Posts