How to Rent Out Your Home
Renters Warehouse Blog
Back to Posts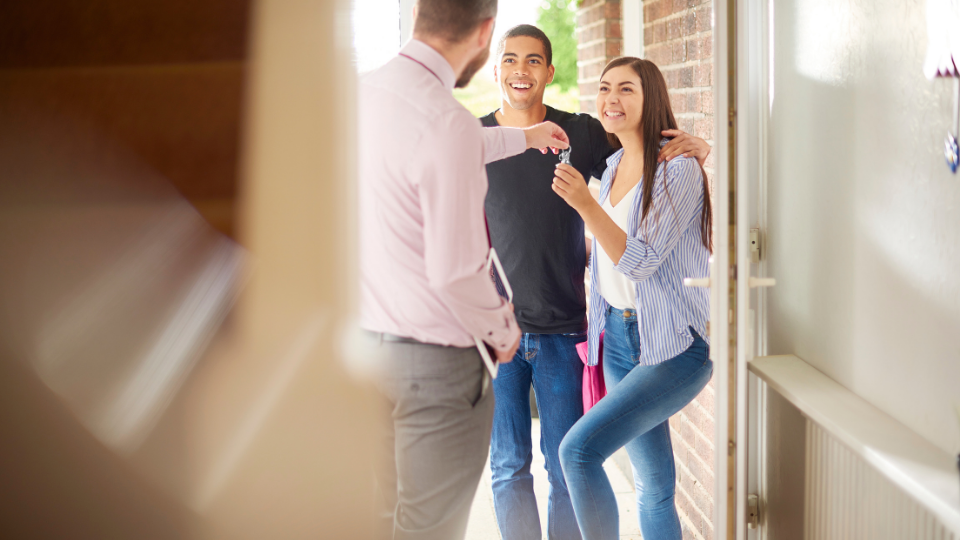 Thinking of renting out your home?
Owning a rental can be a great way to start your journey to financial freedom, and many would-be investors are looking for advice on getting started. The good news is that since you already own your own home, you'll already be miles ahead of other investors who are just starting out and still need to navigate their way through the home-buying process.
If you'd like to rent your home out and are wondering what to do next, then here are some things that will help you to get started. Find out how straightforward owning and operating rental property can be. Once you know what you're doing, that is!
Treat Your Rental Like a Business

First up, it's important to treat your rental like a business. If you don't set goals and systems for your rental property, you'll end up spending all of your free time with it, but won't get the results that you want. Instead, be strategic. Determine for yourself what type of rentals you'll need to invest in, what type of returns you need to generate, and what your long-term plan is for your investment strategy. The more specific you can be the better. Would you like to own ten rental properties, each one generating $400 in cash flow? Is your goal long-term appreciation so that you can have an early retirement? Establish your goals, and then work backward from there, putting into place the steps that you need to follow to reach your goals. While you're at it, look to establish systems and protocols, things that will be helpful with one rental but will prove to be especially valuable should you decide to scale your operations and invest in multiple properties.
See also: Appreciation Vs. Cash Flow: Do You Have to Choose One?
Determine What Type of Rental You Will Have: Short-Term or Long-Term
You'll also want to determine what your plans are and how you're going to rent the property. There are two different options here; you can rent your home as a short-term or long-term rental.
Here's a look at both options now:
First up, we have short-term rentals, also known as vacation rentals. These rentals can be a good option in hot markets or tourist areas that get a lot of visitors every year. In some cases, they can be more lucrative than long-term rentals, but that isn't always the case. These rentals often have much higher expenses than long-term rentals, which can quickly take a bite out of your profits. They're also high-maintenance, and unless you live on-site and are planning to do the work yourself, you'll want to hire a cleaner and vacation rental manager to help with guest management. You'll also want to consider the fact that your rental is unlikely to be occupied year-round. You'll have downtime in between guests and the off-season vacancy rates to consider as well.
Next up is long-term rentals. These are your traditional rental, where occupants generally stay for a year or more. This is an ideal option for most housing markets. The great thing about long-term rentals is that they are much easier to manage and as long as you price your rental competitively, you won't have to worry about significant downtime in between occupants either. These rentals can be managed on your own, or you could outsource the work to a property manager.
Learn more about short-term and vacation rentals: Are Vacation Rental Properties Worth The Investment?
Setting the Rent
Next, it's time to determine how much you should charge for rent. It's often said that landlords don't set the rent; the market does. This is true. Your job as a landlord is to determine what the market rent is for your property, and then price your rental accordingly. Finding the sweet spot that you can charge for rent (one that's not too high, and not too low) will help your rental to rent as quickly as possible, reducing downtime between tenants.
Apply for Insurance
If you're renting out your home, you probably have home insurance already. But insurance for a home is very different from insurance for a rental, so you'll want to get in touch with your insurer and ask them if they can change your policy for you. Most landlords will need coverage for the dwelling itself and other structures on the property. If you store tools or equipment at the property, you'll want coverage for personal property as well. Finally, as a landlord, you'll want to consider liability coverage as well, which can help to protect you in the event that a tenant or one of their guests becomes injured at the property.
Assemble Your Team
Once you become a landlord, your stress levels will be greatly contingent on the quality of help that you have with your property. So make sure you get a few professionals on speed dial! Here are a few people you might consider adding to your team sooner rather than later.
Want truly passive income? Then you'll want to think about outsourcing your property management. A good property manager can take all of the stress and work out of owning a rental. They'll be able to handle all of the day-to-day work that's involved with a rental, including advertising, screening, arranging maintenance and repairs, and even handling evictions should the need arise.
It's always a good idea to have a good attorney among your contacts. An attorney is especially helpful if you're looking to establish policies or write up contracts, something that often requires specialized knowledge of state and local law.
If managing numbers and keeping papers organized causes you stress, then a bookkeeper would be a wise place to start. Keeping your books straight can help considerably when tax time rolls around. Likewise, hiring an accountant to help you with your taxes and income planning strategies is another important step, especially as you start to grow your portfolio and filing taxes becomes more complicated.
Unless you plan to perform all the repairs and maintenance yourself, finding some good contractors is especially important. Find someone who can do general maintenance and repairs, and make sure you have specialists, like a plumber, an electrician, and a roofing contractor on hand as well. Likewise, if you have a garden, who is going to be mowing the lawn and doing general outdoor maintenance? Make sure you have the right people lined up for different tasks that will need to be done.
Note: If you're planning to have the tenant do maintenance, make sure you specify this in your lease, but check first to see if it's allowed in your state. In some states, such as Minnesota, for instance, tenants must be compensated for time spent on tasks such as lawn maintenance or shoveling snow.
Get Your Home Ready to Rent
Once you are all set up, you can start the work to get your home into good, rent-worthy condition.
Here are a few fast and budget-friendly things that can help your home to look like new:
Upgrade the Hardware:

Dated, brassy hardware like old light fixtures and faucets can date a house like nothing else. You'd be surprised at just how much new hardware can transform a space.
Fresh Paint:

A fresh coat of paint is almost always a good idea. Not only does it clean the place up, but it can also help get rid of lingering smells that would be off-putting to a new tenant. Keep the colors neutral as not everyone has the same taste in colors.
Curb Appeal:

Your tenant's first impression of your house will be from the outside, so make a good impression by boosting its curb appeal. Make sure the outside of your home is cleaned up and ready to go. Invest in some low-maintenance landscaping, put some flowers into pots, repair and replace any damaged siding, and refresh any chipping paint.
New Flooring:

Depending on the age of your home, you might consider putting in some new flooring. This is certainly true if the carpets are old and worn. This would be a good time to consider upgrading to hard floors, which are more durable and less likely to trap smells. Durable laminate flooring is usually a good option for a rental.
The extent of this work will depend on two things, the condition of other properties in the neighborhood and whether doing upgrades will actually improve your cash flow. For instance, there's no point in spending thousands of dollars to install new appliances throughout, only to find that your asking rent will only marginally increase. Still, if all of the other houses in the neighborhood have hard floors, and yours is the odd one out with worn carpet, you'll probably have a harder time attracting tenants unless you're planning on giving a discount on the rent.
Hot to Draw Up a Lease
A written rental agreement, also known as a lease, is important for helping to keep everyone on the same page and accountable. This document should be read and signed by both parties. It'll help to protect your interests, and will give your tenants a level of security as well. It's important to draw up a lease that's in compliance with landlord-tenant laws at the federal, state, and local level. Make sure you research your local laws as these laws will vary from state to state, and different cities and jurisdictions often have rules in place as well.
Here are a few things that you should include in your lease:
Rental Terms:

Be sure to include the length of the lease, the rental price, and late fees, including how much a late fee is and when it applies.

Security Deposit:

You'll also want to outline how much the security deposit will be and what it's for.

Maintenance:

Be sure to outline which party is responsible for maintenance.

Rules and Policies:

Include policies such as noise levels, your smoking policy, and

your pet policy

.

Eviction Terms:

Document how the eviction will take place, notice given, etc.
You may also want to consult with a local attorney to ensure that you've covered all of your bases and to make sure your lease is enforceable and in compliance with landlord-tenant laws.
Start Advertising
If you haven't already, now is the time to begin the process of finding a tenant. Start by listing the property for rent. You can do this on social media or websites like Realtor.com, Trulia, and Zillow. Get the word out far and wide!
Screen Your Tenants Carefully
You'll want to ensure that you have a process in place for screening applicants. Once potential tenants start applying, it is important that you screen them thoroughly to ensure that only qualified applicants gain access to your home. Be sure to have an online application that you can direct people to that serves as a type of prescreening process. While it may seem cumbersome, thorough tenant screening can make or break your success with your rental property, so it's vitally important. Be sure to contact references and previous landlords to get a full picture of applicants as well. As always, make sure you're clear on the state and local laws before creating a rental application to ensure you don't violate any rules. And always, always screen each applicant fairly and consistently. See: Things to Look for When Tenant Screening.
Congratulations, you are now officially a landlord! You're ready to start generating cash flow each month. Once you've got the first one up and running, you can start thinking about growing your portfolio to maximize your returns.
And of course, if passive income is your goal, then be sure to take the next step in the rental process and look to outsource all of your stress and hassle to a property manager. A good property manager will be able to take on all of those time-consuming day-to-day tasks, freeing you up to focus on other, more pressing issues. Start creating wealth with buy-and-hold investing and begin your journey to financial freedom.
Looking to rent out your property? See how much you could be getting for your property. It's fast and easy with the Renters Warehouse FREE rental price analysis. Get started today!
---
Back to Posts