How to Give Your Rental a Makeover - Within Your Rental Agreement
Renters Warehouse Blog
Back to Posts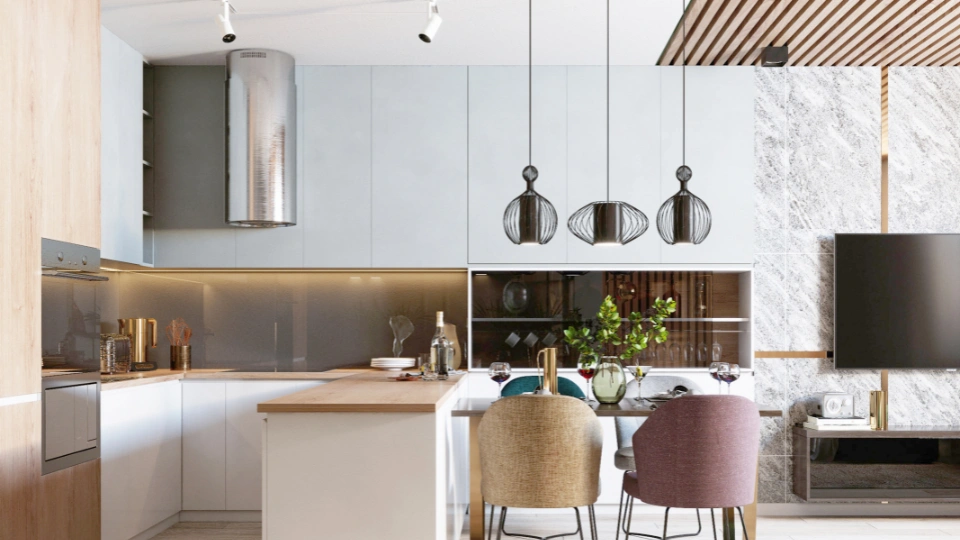 Looking to give your rental a makeover? One of the best ways to transform a rental into a home is by looking to work with what's already there. Sure, you may not be able to take down walls (or put new walls up), but there's a lot that you can do to help minimize the features that you're not crazy about, while highlighting the areas that you love.
In many ways, decorating a rental is a game of compromise, but in the end, if you've put your heart into it, you're certain to end up with something that you love. With this in mind, here's a look at some of the things you'll want to do before you start your rental makeover, along with some budget-friendly, and relatively simple ideas for transforming your space.
What to Do Before Starting the Makeover
When you're renting, giving your home a makeover needs to be done in a way that's in compliance with your rental agreement. And you'll want to ensure that you have your landlord's permission for any changes that you make to the place first. Of course, this can seem frustrating. How can you make your space your own if you're not allowed to paint or make any significant changes?
But the good news is that there's a lot that you can do to make your rental feel like home, even if you're not able to replace the carpet or hang up large pieces of art. As long as you ensure that any changes that you make are temporary, and in compliance with your rental agreement, then you can enjoy making your rental as comfortable and personalized as you'd like it to be.
Before you get started with any major makeovers with your rental, here are some of the things you'll need to do first.
Check Your Rental Agreement
Before you start any renovation projects, check your rental agreement. Some rental agreements specify that certain temporary changes, such as adding curtains and shelves, are allowed. However, in most cases, the rental agreement will probably say that making any alterations requires the permission of your landlord. In these cases, you'll want to check with your landlord first to see if they're happy for you to move ahead with your ideas. Remember: at the end of a tenancy, the property needs to be returned to its original condition or you run the risk of losing your security deposit.
Here are some of the Things To Consider Before Signing a Lease Agreement.
First up, make a list of all the areas you'd like to upgrade or adjust. This list will help you see the scope of work and plan for everything you want to achieve. This will help you to see if the makeover is manageable, in keeping with your budget, and within terms of the rental agreement. A list will also help you to identify areas that need your landlord's approval and help you be more organized when you ask for permission.
Have a Discussion With Your Landlord
Finally, it's time to discuss your upgrade plans with your landlord before proceeding. It's always a good idea to get permission in writing first. You'll also want to document the condition of the property before you start any projects or make any changes. This will also help you to ensure that you return the property to its original condition when you move out.
Tips on How to Give Your Rental a Makeover Within the Lease Agreement
Now, here's a look at some simple and affordable ways to change up your rental.
1. Use Temporary Wallpaper
If your walls are plain or boring, you may want to spruce them up using temporary wallpaper. This technique is also ideal if your landlord has a policy prohibiting any painting. Fortunately, there are removable wallpapers that come in different styles and designs. Just make sure you use a reputable brand, and ensure that the wall underneath is in good condition. As long as the wallpaper is installed and removed correctly, it shouldn't cause damage to the walls. Still, it's important to do a test piece on a small section of wall first, just to make sure it comes off easily.
Landlord permission? This is one upgrade that you'll want to get your landlord's permission for first.
2. Lean Heavy Pieces
Do you have large mirrors, or pieces of art that you'd like to hang? But what can you do if your landlord doesn't want heavy items hanging on the walls? No worries! You can simply place the mirrors or pieces of art on the floor, or on top of shelving units, and lean them against the wall, rather than hanging them directly on it. This stylish solution can be a great way to jazz up a space, and it's much easier, too. Just make sure you lean the pieces safely, placing a small piece of sponge underneath of the art can help to keep it snugly in place, and help prevent it from slipping.
Landlord permission: Not required!


3. Change up the Hardware
If you want to make affordable updates to the kitchen or bathroom, you might consider the hardware. You can make a big difference by changing out fixtures like cabinet handles, light switch plates, and even faucets. When you remove the old ones, be sure to store them together with the screws so that it's easy to put them back when it's time to move out.
Landlord permission? For this one, you'll want to consider asking your landlord first. Make sure you keep the old hardware and reinstall it when you leave.
4. Incorporate Lamps Into the House
One excellent way to add more light into your space is by looking to bring in additional lighting in the form of floor or table lamps. Adding in a few additional lamps can help to make a room more welcoming and cozy. While you're at it, consider swapping out the bulbs for warm white ones. This can help to improve the ambience in a space. Warm white bulbs are available as LEDs to help you keep energy costs down.
Landlord permission: Not required!


5. Make the Most of Color
If you are a fan of bright colors, it might be disheartening to rent a home with neutral shades. Painting a room is usually out of the question, but there are other ways that you can add light and energy into your home. Consider adding in splashes of color in the form of furniture, art, throws, cushions, and other accessories. You may also want to consider adding some colorful curtains to your space to help brighten things up. The right curtains can give your unit a completely different look.
Landlord permission: Not required in most cases! When changing curtain rails or installing blinds, however, you should ask your landlord first.

6. Consider Your Furniture
Fortunately, you don't always need to rush out and buy brand-new furniture pieces; you can often work with what you already have when revamping your space. If you regularly work from home, you can perfect the space by getting shelf dividers and repurposing your furniture to keep things organized. And if you do need new furniture, then consider choosing versatile pieces that will work well with your next home as well. Have a small space? Another idea is to get pieces of furniture that do double duty as other pieces. A shelf that doubles as a workstation, for example, or a convertible sleeper chair that's a chair by day and a bed by night.
Landlord permission: Not required (In most cases)!


7. Spruce Up the Floors
You can also change up your house by revamping the floors. One temporary solution is adding temporary tiles to the floor. There are different peel-and-stick tiles that you can use for your bathroom or kitchen up until you move out of the house. Once again, just make sure you choose a reputable brand, and test a small section first before you do the entire floor. Alternatively, you can always use rugs to disguise a floor. There are many good options today, including washable rugs, that are easy to keep clean.
Landlord permission: Not required in most cases! For peel-and-stick tiles, you'll want to get their permission first.

8. Keep It Green
Houseplants have become quite popular. In fact, 7 out of 10 Millennials consider themselves to be plant parents. To incorporate houseplants into your space, look for a range of plants that are different sizes with varying foliage and leaves. Then, choose planters that look nice together. Arrange plants in groups of 3 or 5. You can group them on a windowsill, the kitchen table, a shelf, or place smaller ones together on a silver tray. Make sure you take plant care into account as well to ensure your new plants are happy in your home.
Landlord permission: Not required!


9. Create a Gallery Wall
You can give your rental a total makeover by adding a gallery wall. Display family photos, art, mementos, or anything that catches your eye by using different frames in different designs to give your house a new look. As you add the pictures or artwork, ensure you use damage-free adhesive hooks, such as Command hooks or 3M strips, that won't damage the walls. To create a beautiful gallery wall, look to arrange your art, photos, and wall-hangings in a cohesive way that goes together well. Try lying everything out on the floor and arranging them that way first before you start hanging them up.
Landlord permission: If using nails, screws, double-sided tape, or anything that could cause damage to the walls, then you'll want to ask your landlord first. Damage-free adhesive hooks are usually okay though.

10. Increase Your Storage Space
Whether you're looking to maximize your space, or just need some help keeping yourself organized, creative storage space is always welcome in a rental. Underbed storage is a classic storage solution. Or, opt for an ottoman that includes hidden storage space inside. You could also look for open shelving units placed in the middle of your room to break up a space while also allowing you to store your favorite items all within arm's reach. While most closets in rentals aren't exactly storage-friendly, you could make the most of your closet space by looking for stand-alone shelves or storage units to place on the floor, hanging shelves that can be hung from clothes rails, and over-the-door solutions as well. Finally, grab some matching baskets to finish the look.
Landlord permission: Not required!


Read more about The Best Deep Clean Tips Before Leaving Your Rental.
Before making any changes to your home, it's important to read the rental agreement carefully first, just to ensure your makeover is within the terms and conditions. If you're not sure about a specific change, then it's always a good idea to talk with your landlord to get their permission first. It's also a good idea to write down a list of everything that you're hoping to do at the property first. This will save you from having to go back and forth with your landlord during your upgrade project, and will give you a good idea of what you can expect from the start. It'll save you from buying materials that you may not be able to use as well. Then enjoy getting creative and finding innovative ways to spruce up your space. With some creativity and inspiration, you'll be able to find plenty of ways that you can make your rental house a home.
Visit Renters Warehouse: Tenant Resources for more helpful tips and information. Remember, you can also use our Resident Portal to submit maintenance requests, pay rent, update your information, and more.
---
Back to Posts