How to Build a Successful Real Estate Team
Renters Warehouse Blog
Back to Posts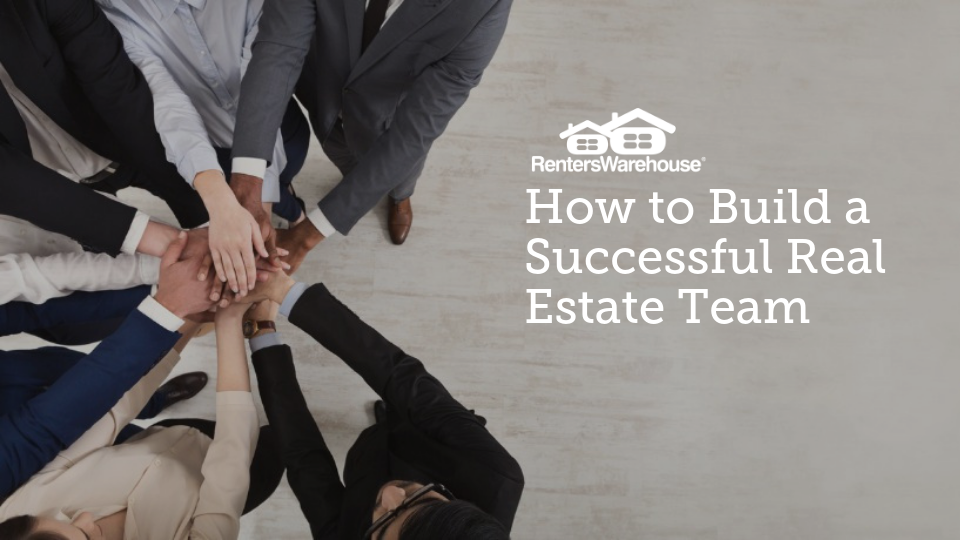 "How many properties can I manage?" It's something you've no doubt asked yourself –especially if you're toying with the idea of scaling your portfolio.
The answer, of course, is that it depends –largely on whether you're managing each of those properties yourself!
While it certainly is possible to oversee each of your rentals on your own, after a while it starts to become a lot more challenging. When this happens, it's important to step back and reconnect with your long-term goals. Are you hoping to scale? Or are you happy with one or two properties?
If you're looking to scale your portfolio, then you're going to want help. Having qualified professionals lined up can help you to navigate the often-confusing world of rental properties, making short work of many time-consuming tasks, and giving you back your time to focus on other things. In short? You will be able to focus on what you're good at without having to worry about things going wrong in the meantime.
If your rental property venture is starting to feel like a full-time job, then that's a good sign that it's time to call in reinforcements. Here's a look at some tips for assembling your own real estate team.
Your Team: Who You Gonna Call?
While you don't need to have everyone on speed dial, having some reliable contacts that you can reach out to for assistance can prove to be invaluable. There are also a number of professionals that you'll want to think about bringing on –before things go wrong.
Let's take a look.
A Good Mentor
First things first, having a real estate mentor can prove to be invaluable.
"All the greats have mentors," writes Sterling White, a real estate investor who currently manages over $10MM in capital. "The best investors, real estate moguls, coaches, athletes, and politicians have all had mentors. Not every new investor can afford or justify the high cost many real estate trainers are trying to charge today. So how do you get this crucial help without a big budget for it?"
White offers some tips for investors who are looking to team up with a mentor. His advice? Frequenting the BiggerPockets forum and tapping into advice, feedback, and strategies that can be found on there. He also advises landlords to join local meetup groups or networking events, and going where investors hang out and striking up a conversation.
If you can't find anyone –don't worry –you can always hit the books. Authors like Gary Keller, The Millionaire Real Estate Investor; Brandon Turner, The Book on Rental Property Investing; and J. Scott, The Book on Estimating Rehab Costs –just to name a few, all offer invaluable advice from a firsthand perspective.
A Mortgage Broker
It's important to look into financing –before you actually need to secure a loan. Getting preapproved can help to save time later on, when it comes to making an offer. By having a working relationship established before the process begins, you'll know what you qualify for, and will be able to move quickly when it counts.
An Investment Partner
Of course, traditional financing isn't the only option available to investors. Loan terms available for investment properties usually aren't as favorable as what's available for a primary residence, and many investors turn to other options after their first investment or two. One such option is an investment partner –teaming up with someone who may have the capital, but lacks the time to assess potential deals. Learn more about investment partners.
An Investor-Friendly Real Estate Agent
Having a good, investor-friendly real estate agent can make a world of difference when it comes to securing excellent deals. The right agent will be able to notify you when great deals that meet your criteria hit the market, and should be able to offer advice on the state of the local housing market, as well as fill you in on things like rental demand, the potential ROI on a property –and tips for competitively pricing your rental as well.
An Accountant
As you begin to invest, you might find that your taxes begin to get more complicated; something that compounds when you add more property to your portfolio. But the right accountant won't make short work of your tax returns, they can also help you to structure your purchases in a way that'll help you to lower your tax bill, and increase your profits.
An Attorney
Let's face it, like it or not, there will come a point in time where you need some expert legal advice. Whether it's help drawing up a contract or assistance with an eviction, an experienced attorney can help. A good attorney won't just prove to be invaluable when there's trouble, though –they can also offer expert advice that'll help to keep you in the clear from a legal standpoint as well.
"The right attorney does more than just facilitate closings or advise about real estate transactions," writes real estate investor and author James Kimmons. "They can also help you to structure your business to protect your personal assets. It's always better to work with an attorney to structure your business and procedures than it is to hire them to defend you in a lawsuit."
An Insurance Agent
There's no question that you'll need insurance. But you'll want to keep in mind that not every insurance agency is the same. Some offer better deals for SFR properties, while others may specialize in commercial buildings. So take your time to find the best deal. And make sure you get adequate coverage. Flood policies are available separately. See best landlord policies for 2019.
A Property Manager
Hiring a property manager can help you reduce the stress of trying to find and vet potential tenants. They can also help reduce the need for you to source contractors, since most property management companies will handle the maintenance and repairs themselves –and will already have a database of trusted contractors that they use. A good property manager will also help you to ensure that you're operating in a way that's in compliance with federal as well as state legislation. They'll be able to prepare rental agreements, collect and process security deposits, and even handle evictions when necessary. While a property manager is a good idea in general, they're especially invaluable when it comes to property that's located out of town, or if you have multiple rentals.
Contractors
General contractors are great people to have on your shortlist of team members. When the need for repairs arise, having a general contractor who you trust to get the job done is important. There is nothing worse than scouring the internet at 2:00 am, looking for a contractor when an emergency arises. You'll also want to have a plumber, electrician, and locksmith that you can call as well.
Where to Find Them?
So how do you get started when it comes to putting together a team of qualified professionals? One of the best ways to find qualified pros is by asking around. If you know someone who has rentals, ask who they use. You could also check with contractors, to see if they have any fellow professionals they could recommend.
"Rockstars tend to party with other rockstars, and good tradesmen tend to work with other good tradesmen," says Brandon Turner, founder of Bigger Pockets and bestselling author.
"For example, I have a great finish carpenter, so I can ask him, 'Hey, do you know any great plumbers?'"
Of course, you can always take your search online as well. Finding someone with good credentials is relatively easy online. Once you've found someone promising –with great reviews, give them a call. Ask plenty of questions, and always go with your gut. If anything sounds too good to be true, it probably is.
At the end of the day, you'll want to ask yourself whether your goal is to manage your rentals on your own, or whether it's to grow your wealth. If it's the latter, then you'll want to think about bringing a team onboard.
Investing can be challenging –especially when you're first starting out, but with the right team, you'll be able to sidestep many common issues, and get yourself on the road to success. Whether it's your first property or tenth, you can accomplish more when you have the right people on your side, so work to assemble your winning team early on. You never know when you might need to give them a call!
Looking to grow your portfolio? Be sure to check out Real Estate Portfolio Guide: Starting and Growing the Right Way. See what YOU need to know before you start scaling.
---
Back to Posts