Guidebook - Everything You Need to Know About Taxes as a Landlord
Renters Warehouse Blog
Back to Posts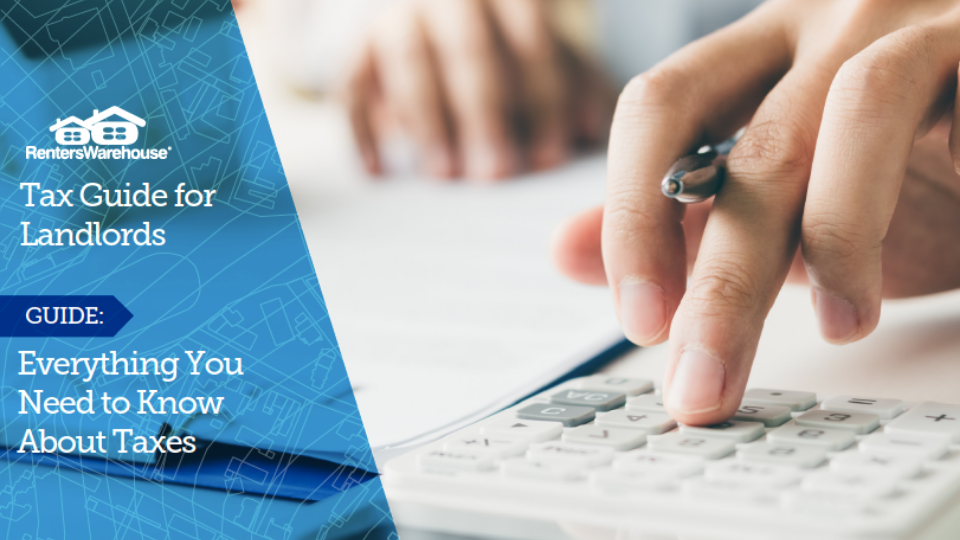 Tax season can be a stressful time of year for landlords. But it doesn't have to be. The good news is that there's a lot that you can do throughout the year so that your taxes are straightforward and as stress-free as possible.
Your best option is being informed about what strategies you can employ or deductions you can take, things that can help you when it comes to tax planning, which can mean a significant savings when it comes time to pay your taxes.
"Deductions aren't the only way to save at tax time. There's a lot that landlords can do throughout the year to structure their finances in a way that'll help them to save as well. For landlords, it's important to ensure that you're familiar with all of the available deductions so that you can lower your tax bill. There are also a number of tax-saving strategies that you can employ as well, either throughout the year or when selling a rental, that can help to reduce the amount of tax that you'll owe." – Tax Guide for Landlords – Everything You Need to Know About Taxes
So what can landlords do to ensure a smooth filing process? In this guide, we'll take a look at some things that you can do to reduce stress and lower your tax bill as well.
In this guide, we'll uncover:
Things that landlords can do to reduce their tax bill
Strategies to make filing easier, helping you to navigate tax time with minimal stress
Deductions that landlords can use to reduce their tax bill –

Take a look at depreciation, mortgage insurance, repairs and maintenance, travel expenses, and more!
Tax strategies that you can employ

– See strategies that you can employ throughout the year that can help to reduce the amount of tax that you owe. This includes contributing to a 401(k), checking your deductions, donating to a charity, and more.
What's Depreciation and How Does It Work?

– Find out what this deduction is, how it works, and what you can expect when taking it.
Changes to the Tax Code –

What's new for taxes this year?
Tips to Make Tax Time Easier –

There's a lot that you can do to streamline your tax prep.
Millions of landlords pay more tax than they need to each year. This is largely due to the fact that they're not aware of the wealth of deductions that are available for landlords. The U.S. tax code, in many ways is generous to landlords, but you have to know what tax breaks are available and how to best use them.
What if you're selling a rental?
Selling a rental can present a significant tax burden. In this guide, we'll uncover some things that you can do to reduce your taxes when selling. Strategies we'll look at include 1031 exchanges –which means exchanging your rental for a "like kind" investment, living in the rental so that it's considered a primary residence, and more. We'll also take a look at tax-loss harvesting. See how this strategy can also help you to save.
Pitfalls to Avoid
Finally, see common mistakes that landlords often make with taxes.
Common pitfalls include:
Not Understanding Capital Improvements
It's easy to assume that all work on the property is fully tax-deductible. But in the eyes of the IRS, not all work is the same. Understanding the difference between repairs and improvements is important when filing your taxes.
Assuming All Travel Expenses Are Deductible
One of the advantages of being a landlord is being able to deduct travel expenses. However, many people confuse this deduction as a catch-all for everything travel-related, a risky mistake that could cause you to be flagged by the IRS.


Failing to Employ Tax-Saving Strategies
Failing to employ tax-saving strategies when buying or selling a rental can be costly. Tax planning can help you to minimize or offset large, taxable gains so it's worth employing these strategies or reaching out to a good accountant who will be able to help you reduce your tax bill.
Tax time can be stressful for anyone, but it doesn't have to be. Don't get caught up in the stress of tax season. There's a lot that you can do to save time and make the process of filing much easier.
See what landlords need to know about taxes this year.
---
Back to Posts