Guide: The Ultimate Guide for Real Estate Investing
Renters Warehouse Blog
Back to Posts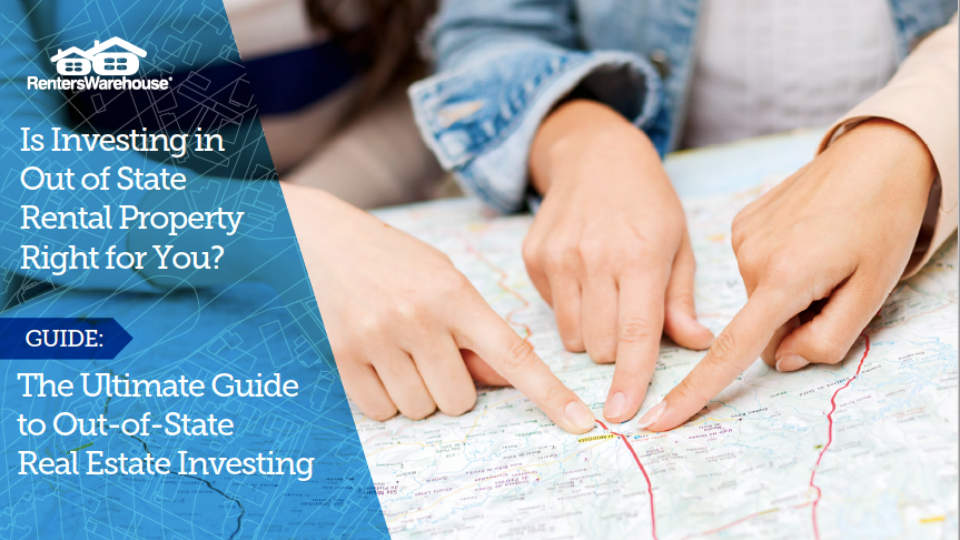 Many landlords start out by investing in their own hometown. But eventually, there comes a point where you may want to think about widening your search net and investing out of state.
Expanding your search parameters gives you more options, allowing you to take advantage of markets that may offer better returns. Instead of being limited to what's available in your own hometown, going further afield will enable you to find the exact market –and property that will give you the best return on your investment. Often, this can make a significant difference both in terms of cash flow and long-term appreciation.

But isn't investing out of state risky? How will you oversee the property if you're far away? What happens if something goes wrong and you're not there to handle it?
While it's true, there are some challenges that arise when it comes to being a long-distance landlord; there are some distinct benefits to long-distance investing as well. The good news is, that most of these can be mitigated with the right strategy, by doing your research ahead of time, and setting up your rental property investments to operate independently of you –which, at the end of the day, isn't that something we'd all like anyway, whether we're local or long-distance landlords?
In this guide, we'll take a look at some of the benefits of casting a wider net. See how you can find success with long-distance real estate investing.
In this guide, we'll look at:
The benefits of investing out of state

–

Casting a wider net means you'll have the opportunity to find more affordable markets, properties with a better ROI, and better appreciation rates. It also gives you the chance to diversify your portfolio, and invest in a state with investor-friendly laws.
Tips for analyzing smart investment deals

–

There's more to buying a rental property than finding something that looks good. You'll want to carefully consider the market conditions as well. See what you should look for to find a property that'll perform well as a rental investment. (Including tips for spotting an up-and-coming emerging market).
Tips for success with out-of-state rentals

– S

uccess with rental investments isn't accidental. Do your research, familiarize yourself with landlord-tenant laws, dial in on the neighborhood, assemble a team, and more to find success.
And more!
If you'd like to get started with real estate investing or are thinking of growing your portfolio, going out of state can be a great opportunity. Just make sure you know what you're in for and have a clear strategy for success –before you start. Many investors have found success as long-distance landlords. Here's how you can emulate their successes and avoid common pitfalls to find financial freedom through SFR investments.
Interested in out-of-state rental properties? Be sure to claim your FREE guide: The Ultimate Guide for Real Estate Investing –today. Start building wealth for the future.
---
Back to Posts