Guide - Stability of the Buy and Hold Method
Renters Warehouse Blog
Back to Posts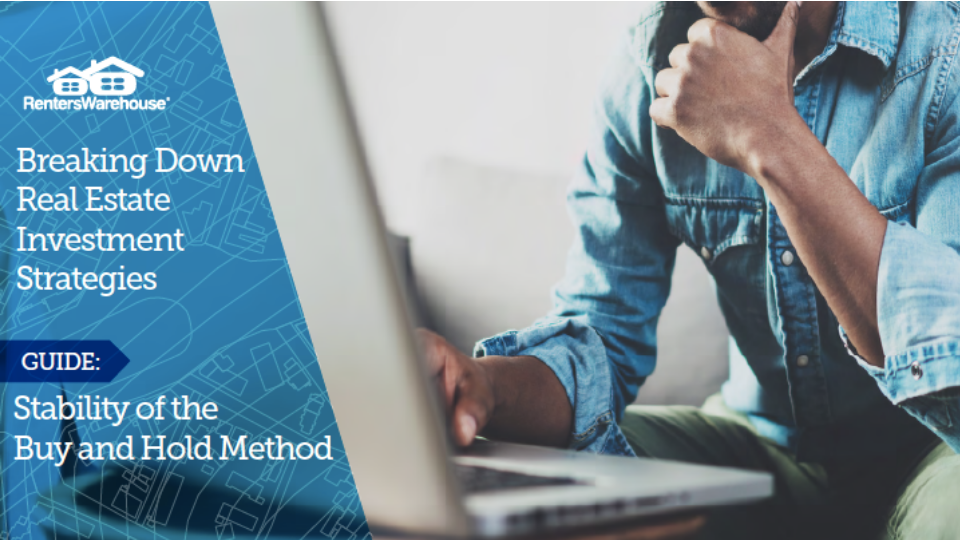 When it comes to real estate investing, there are plenty of options available –but one strategy that's long been a favorite for many investors is the buy and hold method.
There's a reason that buy and hold investing is such a popular strategy, especially when it comes to SFR (single-family rentals). Rental investments can be tremendously profitable –they're easier to manage and oversee than their multifamily counterparts. In some locations, these properties also tend to be in high demand and often rent for more than multifamily units. Many tenants appreciate the space and privacy that single-family homes offer and are often willing to pay more for these amenities.
SFR makes an ideal investment for everyone from first-time investors to institutional investors alike. Thanks to recent advances in tools and tech, these investments are easier than ever to source, screen, buy, and sell. They're also easier to manage; even long-distance or on a large scale.
When done right, a buy and hold strategy can offer tremendous rewards, including years of stable cash flow as the rental income rolls in. And when you're in it for the long run, you'll also experience appreciation as the property (ideally) increases in value.
Another great thing about long-term rentals is that this type of investment gives you options. You can keep the property long-term and continue to collect rental income on up into retirement or cash out part, or even all of your SFR portfolio at any time. When it's time to sell, you'll have a wide market of ready buyers. SFR tends to be easier to sell than multifamily buildings, as it's popular with investors and homebuyers alike.
In this guide, we'll look at:
The benefits of a buy and hold strategy -

Cash flow, appreciation, tax benefits, and more.
Other real estate investing strategies -

Real estate trading (house flipping), short-term rentals, REITs, wholesaling, and more.
Strategies that you can use to maximize your buy-and-hold strategies –

House Hacking, BRRRR Investing, and the Debt Snowball Plan.
How to analyze smart real estate investments -

Not all SFR investments are created equal. In this section, we'll uncover tips for analyzing real estate to help you find a property that'll perform well as an investment. See how to spot an emerging market and conduct neighborhood research, as well as what numbers you should run to make sure a property will perform well as an investment.
And more!
If you'd like to get started with real estate investing, but aren't sure which option is best –or where to begin, then this guide's for you. In it, we'll uncover tips and strategies that experienced investors are using to grow their wealth; and will show you how you can gain financial freedom through buy-and-hold investing as well.
Thinking of taking that first step toward investing? Then you'll want to claim your FREE guide: Stability of the Buy and Hold Method. See what you need to know to get started, and find success through SFR investing.
---
Back to Posts