Guide – Risk Management for Landlords: Identifying and Mitigating Potential Hazards and Liabilities
Renters Warehouse Blog
Back to Posts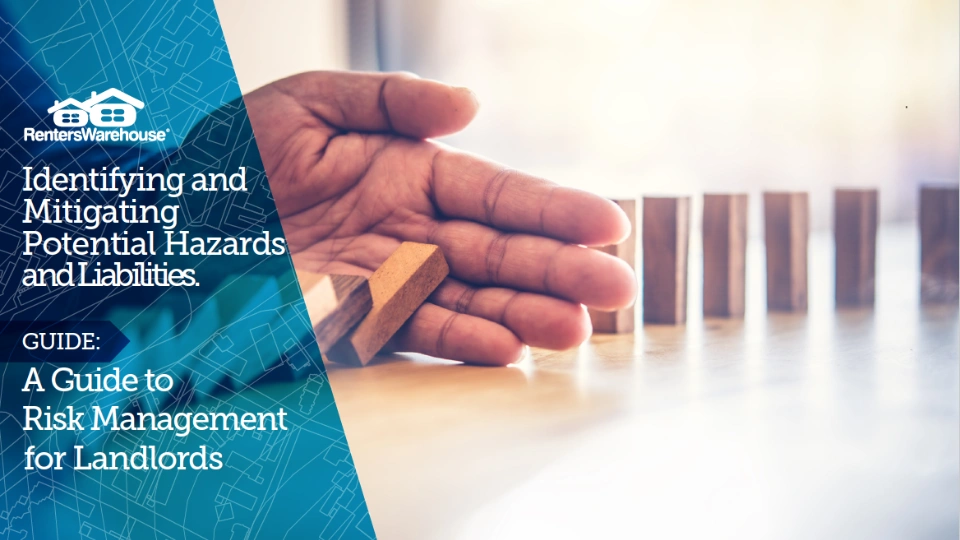 Rental properties can be financially rewarding. But as with any venture, there are challenges that may arise along the way. These range from unforeseen hazards to complex liabilities that can expose you to financial risks.
As a landlord, your responsibilities, and protecting your assets, can be broken down into three main areas:
Providing safe, habitable accommodation for your tenants.

Operating in a way that's in compliance with the law.

Taking steps to safeguard your assets.
In this guide, we'll look at some strategies that can help you reduce or mitigate potential hazards and liabilities, important landlord-tenant laws, and what you can do to help safeguard your assets.
The Most Common Legal Challenges for Landlords
There are 49.5 million rental units in the United States, so it makes sense that this is one industry that is highly regulated and is subject to various state and federal laws.
Here are some potential legal mistakes that a landlord may encounter in the United States:
Failing to Return Security Deposits According to Law

Dangerous Conditions In and Around the Rental

Violating a Tenant's Rights to Privacy

Charging Excessive Late Fees

Setting Policies That Discriminate

Asking the Wrong Questions During Tenant Screening
Download your FREE guide today.
In this guide we'll uncover:
Strategies That Can Help Landlords to Help Mitigate Risks
Equipping yourself with knowledge on landlord-tenant law and your responsibilities, can help you to sidestep many potential issues. Risk management is not about quick fixes, insead it's about proactively learning about your responsibilities, and then identifying ways that you can incorporate risk management into your everyday property management. This approach can help you to mitigate a number of potential hazards and risks.
Here are some important strategies that can help you to stay on top of potential issues, and identify things that you should be doing instead:
Conduct Interior and Exterior Inspections

Obtain Adequate Insurance

Implement a Thorough Tenant Screening and Selection Process

Have a Good Understanding of Landlord-Tenant Laws

Create Clear Rental Agreements
And more!


Risk management may sound like another overwhelming task to add to your already full plate, but it's something that you shouldn't ignore. Risk management can help you create a secure home for your tenants and help to safeguard your investments at the same time. The good news is that there are strategies that can help you minimize risks and liabilities.
This guide provides valuable insights on identifying, mitigating, and navigating potential hazards and liabilities with rental properties. While it isn't meant to be a comprehensive guide, it is meant to raise awareness on some of the common issues that you may encounter and highlight some of the ways that you can help you to minimize your risks and safeguard yourself.
Investing comes with risks, but that doesn't mean you're powerless against them. With the right risk management strategies, you can stress less and focus more on scaling your portfolio.
Download your FREE GUIDE today and see how you can take steps to protect yourself!
---
Back to Posts