Guide - How to Assess and Survey a Potential Property - Your Guide to Walkthroughs
Renters Warehouse Blog
Back to Posts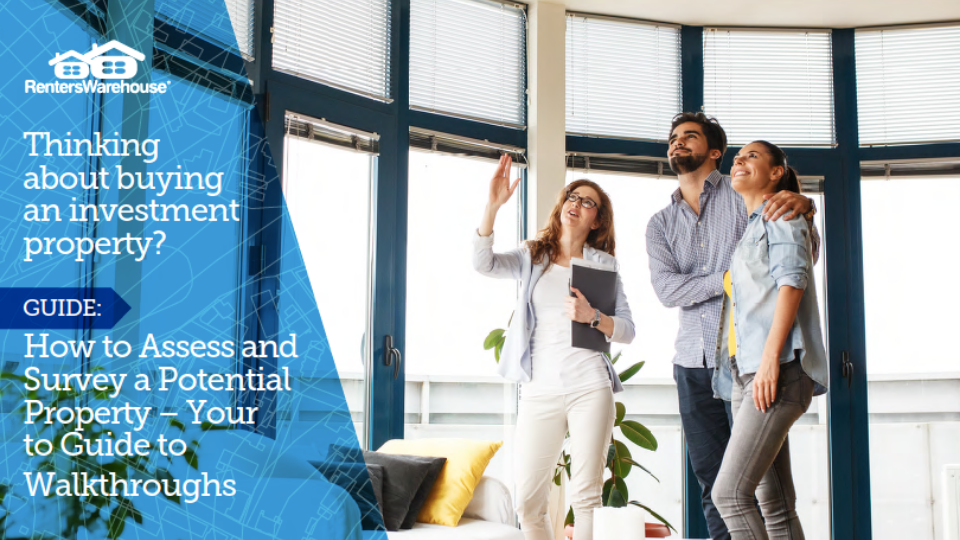 Looking to get started with rental properties? Then you'll want to make sure the property that you invest in will generate good returns.
In this guide, we've outlined some things that you can do to ensure that the property you purchase is an excellent investment. We've highlighted strategies that experienced investors use to assess and survey potential properties so that you can use the same approach when you're looking for a prospective property.
As an investor, your goal is to make money with rentals. In order to make a profit and ensure that you're meeting your investing goals, you'll want to consider the market that you're buying in and whether the property will be generating cash flow, and in most cases, appreciation as well. Many investors also look to secure properties that are at a good price.
One way that you can ensure that you're getting a good deal is by conducting a walkthrough of the property in question before you sign on the dotted line. A walkthrough is your opportunity to spot any potential issues with the property before you've purchased it, and all of the responsibilities have become yours.
In this guide, we'll uncover what you should know when assessing potential properties. We'll also look at some preliminary steps that you can take to evaluate potential properties online before you go to see them in person, helping to save you time and effort. See how you can determine whether a potential property warrants a closer look.
If you're looking to get started with investing, this guide is for you. See how you can find a high-performing rental property that'll give you the returns that you're after.
Download your FREE guide today.
In this guide, we'll take a look at:
Tips for Establishing Your Investment Criteria

: Before you begin looking at properties, establish your investment criteria. This means setting investment goals, deciding what you're looking for in a property, and choosing where to invest.

Tips for Assessing a Property's Viability:

Now comes the fun part. It's time to start looking at properties. Your goal is to find a property that'll generate the returns that you're looking for. You'll want to assess the market and run the numbers to find out whether a property is worth investigating further.

Tips for Surveying a Property:

When it comes to

doing a walkthrough of a potential property

, it's important to know what you're looking for. In this guide, we'll uncover some things you'll want to pay attention to when doing a walkthrough of a potential property.

This includes looking at what isn't being shown as well!
Make a List of Questions Ahead of Time:

You can ask about the roof, the heating system, recent renovations, and other high ticket items. It's also important to verify what's being said to the best of your ability so that you can know what you're in for if you buy the property. Don't be caught by unexpected and costly surprises down the road.

Checklist for Walkthroughs:

This guide includes a

FREE

checklist for questions you should ask and things you should assess when looking through the property. You can print this out and bring it along with you when visiting properties. This includes things like running water and checking for leaks, checking the electricity in the house, testing the air conditioning, inspecting the ceilings, looking for signs of pests, and much more.
We'll also uncover some tips for getting started with real estate investing as well.
Once you've decided to purchase your first rental property, what's next?
Now it's time to lay the groundwork for your investments. In this guide, we'll take a look at some things that you can do to get yourself ready to invest.
When it comes to investing, you'll want cash reserves, a good credit score, and in some cases, a plan to pay down your debt. You'll also need a plan for financing unless you're planning to pay for the property outright. We'll uncover some financing options in this guide as well.
Some of these things are tasks you'll want to get started with early on so that you can get yourself into a stronger position to borrow, something that could impact the type of loan that you qualify for, including the interest rate and required down payment.
Getting started with your first rental property can be an exciting time. Just make sure you know what to look for so that you can spot an excellent rental investment when you see one. With this guide, you'll be able to find a winning investment: one that will generate the type of returns that you're looking for.
Ready to get started with rental investments? If this sounds like you, be sure to claim your FREE guide today! See what you need to know about investing in rental property and how you can ensure that the property you choose will generate the returns that you're looking for.
---
Back to Posts