Guide - A Look at the Housing Market As We Enter 2022
Renters Warehouse Blog
Back to Posts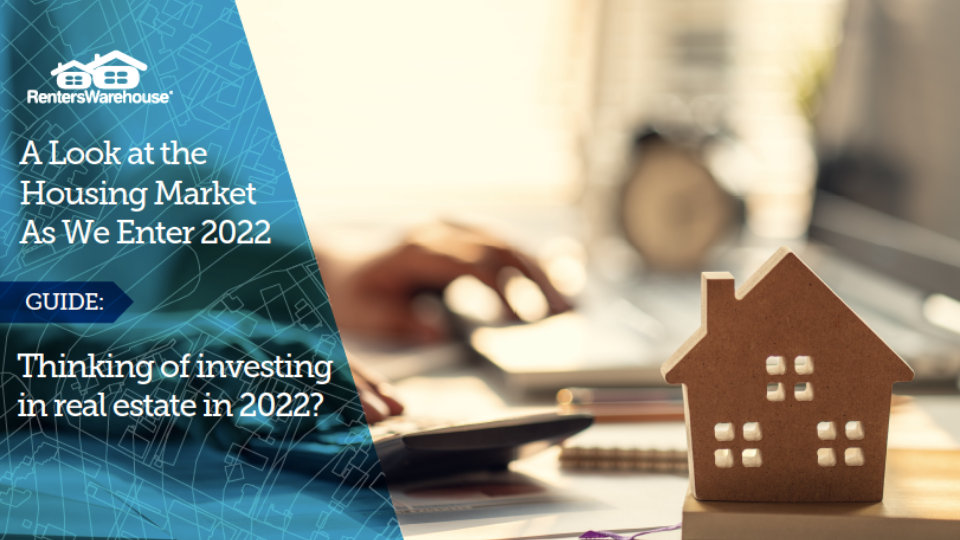 As we move into the New Year, many investors are asking, "What's happening in the housing market?"
When it comes to the housing market, it's safe to say that these are wild times. There's a lot happening with housing, and many changes that are taking place to accelerate new developments. Things are booming, and demand is surging. Likewise, when it comes to rental properties –demand is only continuing to grow.
"In fact, housing prices have shot up by a whopping 20% in 2021, and experts expect them to continue their ascent in 2022 as well –although it may be at a slightly slower pace than the sky-high gains we've seen this year." –Guide: A Look at the Housing Market As We Enter 2022
What's happening though, as we exit out this year and move into 2022? With sky high housing prices, are there still opportunities to invest? Or should investors think about sitting this one out?
In this guide we'll take a look at what's happening now, to give you a good idea about what you can expect as we enter the year ahead. We'll take a look at factors that are impacting supply and demand and highlight steps that investors should take if they're looking to buy real estate in the months ahead.
In this guide, we'll look at:
What's happening in the housing market

– Housing prices are rising, meanwhile, rents are soaring as well.
Breaking it down: a look at single-family residential rentals (SFR)

– See what's happening with rental properties in 2022. Increasing demand for rentals means sky-high occupancy rates and increasing rents. See what dynamics are impacting supply and demand.
How to find a market to invest in:

Which markets are hot for 2022 (and some that may be

too

hot!)

Find out why the "smile states" deserve investor consideration this year.
Tips for reading the market conditions

– What to look for. Tips for spotting a buyer's market.

As always, all real estate is local. Make sure you consider localized economic factors when assessing investment opportunities.
How to spot an emerging market

– An emerging market, one that's expected to experience future growth, could be your best bet when investing in SFR.
Is it worth investing in?

Once you have a property in your sights, here's how you can assess its performance as an investment.

One tip is to get local with your research. Consider the local housing market, and neighborhood. Dialing in you research to this level can show you what you need to know about the projected long-term performance of a rental.
We'll also take a look at tips for getting the MOST out of your investments. Things that landlords can do to strengthen their investments moving forward to maximize their returns. Make sure your investments are performing as they should be and generating solid returns. (This includes a look at using leverage to drastically increase your returns!)
As always, real estate remains a sound investment, but it's important to keep in mind that opportunities will vary considerably from market to market. Investors today will need to keep their eyes open, run the numbers, and assess the local housing market and economic conditions carefully, before they dive in.
Curious about what's happening in the housing market? Get your FREE overview of the housing market, and find out what you should know before you invest.
---
Back to Posts