Buying a Multi-Unit Property to Get Your Start in Rent Estate(tm)
Renters Warehouse Blog
Back to Posts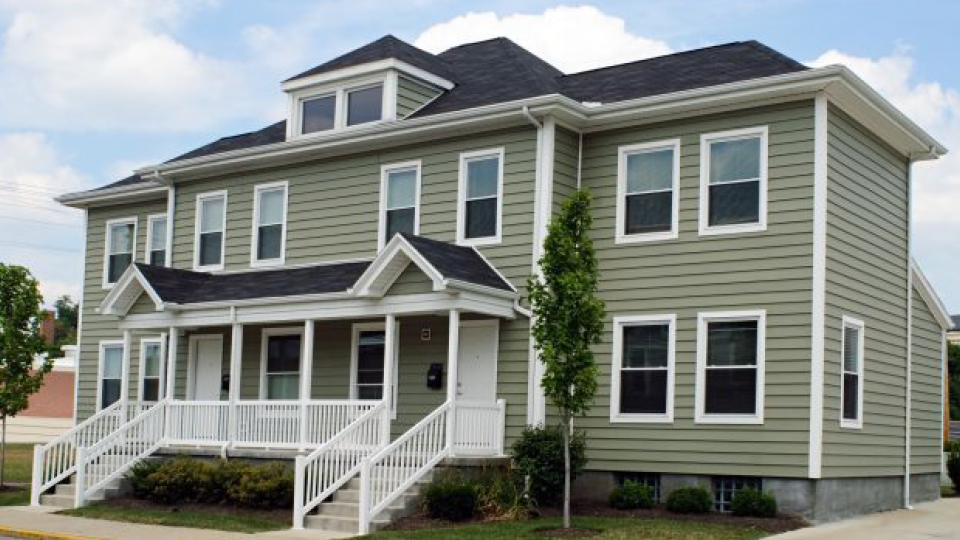 Think fast! What's the best way to get started with investment properties?
For most people, buying single-family rentals come to mind -but while it's true that single-family housing can be a good option, there's another investment opportunity that you may want to consider: multi-unit properties!
Buying a multi-unit -think: a duplex, triplex, or fourplex; and living in one of the units while renting the others out is an ideal strategy that makes a lot of sense for many first-time investors -and it could be a great way for you to begin your foray into Rent Estate(tm) investing too.
While multifamily properties are one of the least common types of residential buildings, there's a reason that many first-time investors are looking out these properties. With multifamily units, you have the chance to earn multiple streams of income -or, you could live in one of the units while renting the others out. Multi-units are also relatively easy to obtain financing for -especially for first-time buyers, and could be your ticket to securing a more favorable loan, allowing you to jumpstart your cash flow -and helping to make your foray into Rent Estate a bit easier.
With this in mind, let's take a look at why you'll want to consider a multi-unit for your first Rent Estate purchase -and see how you can get started with these properties!
Why Buy a Duplex?



First of all, you'll want to keep in mind: not all duplexes are created equal.
As Brandon Turner of Bigger Pockets says, don't just buy a duplex -buy a GREAT duplex! This means taking the time to do your research up front to ensure that you find a property that's a great deal -one that's expected to produce healthy cash flow and provide you with a great rate of return.
The benefits of buying a great multi-unit property include:



A Favorable Loan: Relatively Easy to Obtain Financing For

Multi-units are relatively easy to obtain financing for -especially if you're a first-time buyer! First-time buyers are often able to obtain an FHA loan, which means that if you're planning to live in one of the units and will be buying the home as an owner occupant, you may be eligible for a better interest rate, and a lower down payment -currently 3.5 percent. If the property is in need of repairs, you could even take advantage of the FHA 203K remodel loan, which means that you would be able to incorporate the cost of the repairs into the loan -a great way to get started.
Excellent Cash Flow

If purchased correctly, a multifamily can be an excellent source of cash flow. With a single-family, you'll have one stream of income, but with a multifamily, you'll be able to generate income from multiple units.



The Ability to Gain Multiple Units in a Single Transaction

One transaction will give you multiple units -no need to buy separate properties.
More Financial Security

More tenants means that you'll have more financial security, and will be able to weather vacancies better. When a tenant leaves, you'll still have the other units producing cash flow.



The Chance to Live Rent Free

With a multi-unit, you can essentially live for free, or less, in one of the units while the tenants pay the mortgage down for you.



Easier Maintenance

Multi-units are relatively easy to manage; all of your maintenance and repairs will be done at one location. And if you live in one of the units, you'll be able to keep an eye on the property easier as well.



Finding and Securing a Great Investment

Of course, multifamily properties vary considerably -and you won't want to settle for the first duplex that you find! In order to make a profit, you'll want to make sure you find and secure an excellent investment opportunity. In most cases, this means buying a property that's below market value, in an area that's poised to experience growth. Here's a look at how you can find an amazing deal that will provide you with the best rate of return.
Do Your Homework



First, you'll want to do your homework before you get started. Educate yourself on the ins and outs of real estate investing so that you know what constitutes a good deal, how the process works, and how to weigh up the viability of an investment. Fortunately, there's a world of helpful books and resources today that make it easier for anyone who's motivated and eager to learn. Bigger Pockets provides a great guide to help beginners get started, and it's worth reading through

The Ultimate Beginner's Guide to Real Estate Investing

. You'll also want to get ahold of some great

books on real estate

, and educate yourself so that you're well-informed.




Secure Financing



A common mistake that many investors make is failing to arrange financing before they begin their search, but it's a good idea to make sure you have financing in place -before you start shopping. This will narrow down your search, allowing you to look into properties that you can afford, and will save you from wasting your time on pursuing purchases that are outside of your budget. If you can, try to obtain preapproval from your bank or lender to find out how much you can borrow. This will also help you to move quickly once you have a prospective property in your sights -vitally important if you're hoping to secure a great deal. If you find that you're not having much success obtaining financing through your bank, don't hesitate to try a different one. Banks often have different lending standards and requirements, so don't give up if the first lender turns you down. Finally, keep in mind that there are many different ways to obtain real estate financing,

including private lenders

, so be sure to have a look at some

alternative sources of funding that real estate investors can take advantage of

.
Begin Your Search



It's time to begin your search! Have a look at websites like

Realtor

,

Redfin

,

Zillow

, and

Trulia

to see what's available. You may also want to get in touch with a local real estate agent in order to get set up with an MLS listings search, which will alert you when properties that fit your criteria become available. If you can, try to find an agent who has experience working with investors. A good agent will prove to be invaluable, as they'll be able to guide your search, and inform you whether a prospective property would make a good rental.
Location



Location, location, location! You'll also want to decide whether you're going to be investing locally, in properties that are in your general vicinity -or if you're going to take your search nationwide. While there are pros and cons to both of these options, you'll want to think carefully about which one's best for you. One of the main benefits of going local, is that you'll be able to keep an eye on your properties yourself -however, expanding your search to include out-of-state properties will allow you to take advantage of better property markets, increasing your chances of finding a great deal. If you're leery about

long-distance landlording

, you may want to consider hiring a

reputable and professional property management company

-allowing you to rest assured knowing that your rental will be managed to a high standard, even in your absence.




Cash Flow and Returns



Before you make an offer on a property, you'll want to make sure the property is one that will provide cash flow, and a decent rate of return. First, tally up your projected expenses -make sure you include everything including the mortgage payment, insurance, taxes, utilities, maintenance and repairs, property management fees, and vacancies. Next, add up your projected annual rental income, and subtract your expenses from the total. The difference is your cash flow. Once you have your cash flow, you can take that total and use it to

find your cash on cash returns

-you can find this by dividing your annual cash flow by the figure that you directly invested to buy the property. Cash on cash returns of

around 10 percent

are what many investors strive for.




Appreciation

With Rent Estate, appreciation is the icing on the cake! Having a property that provides cash flow is the main benefit with income properties, but in many cases, you can also expect the property to appreciate over time -especially if you're in it for the long-term. Property values fluctuate considerably, but on average, you can usually expect them to increase. Once you have a property in your sights, take a look at pricing data to see how much the property has appreciated over time to get an idea about whether it's likely in increase in value, and if so, how much.




Hire an Inspector



Before you commit to buying -make sure you hire a professional home inspector to thoroughly inspect the property for you. This will save you from making a mistake -and buying a property that's in need of extensive renovations that you weren't prepared for, and will inform you of the exact condition of the property. If time is of the essence, you may also want to consider making an offer -just make sure you have an inspection contingency included in your contract. This way, if the inspector finds any major problems, you'll be free to back out.
Make an Offer
Finally, it's time to make an offer! Keep in mind that, typically, there's some wiggle room in the sale price with many properties, so don't be afraid to make an offer that will help you to secure a better rate of return. The length of time that a property's been on the market will have an impact on the amount that the owner may be willing to accept -so be sure to have a look at properties that have been listed for a while -these sellers are usually more motivated to sell. You'll also want to consider hiring a real estate attorney, to ensure that your interests are protected when you make an offer. This will help you to decipher the purchase agreement, and allow you to be certain that important terms such as the price, financing terms, potential inspections, and closing costs are included -and in line with what you were expecting.
While you can begin your foray into investing by buying a single-family rental, for many first-time investors -a duplex or triplex often proves to be a viable or even preferable alternative. It can be a great way to get your foot on the property ladder and begin your Rent Estate adventure. Just be sure to look at your options to see what's available, and weigh up each investment opportunity on a case-by-case basis. Whether you choose a single-family or multi-unit property, the most important thing is ensuring that you find a great deal -one that will allow you to generate an excellent return on your investment. Then join the Rent Estate Revolution and start using income properties as your vehicle for financial freedom!
Are you ready to start building your Rent Estate empire? To learn more about the exciting opportunities that are in store for real estate investors, get your copy of Rent Estate Revolution -our exciting new book that will show you how you can use Rent Estate for long-term wealth creation.
---
Back to Posts