Renters Warehouse Acquires Leading Real Estate Investment Marketplace OwnAmerica
Renters Warehouse Blog
Back to Posts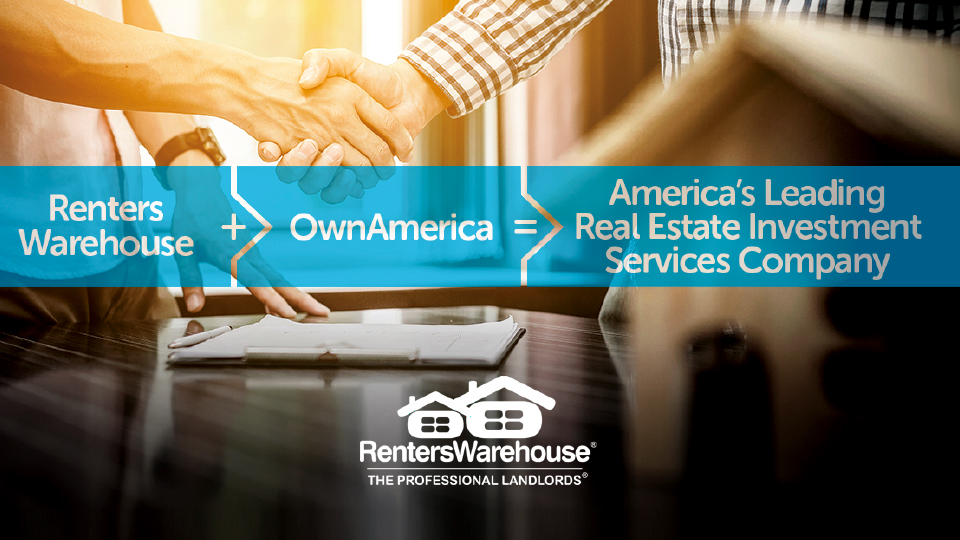 Renters Warehouse, one of the largest and highest reviewed property management companies in the country, is thrilled to announce that it has reached definitive terms and signed agreements to acquire the second largest single-family rental investment marketplace in the country, OwnAmerica. The transaction is scheduled to officially close January 1, 2019.
With this acquisition, Renters Warehouse is creating an entirely new category in real estate by changing how people invest. It will bring onboard OwnAmerica's marketplace technology that will allow real estate investors to buy and sell single-family rental properties with confidence.
"For over a decade, Renters Warehouse has been working to build the nation's largest and best single-family rental property management company," shared Renters Warehouse CEO, Kevin Ortner. "As we strive to offer our clients better access to information, data and resources to make investing easier, OwnAmerica's portfolio visualizer tools and market research capabilities stood out as industry leading and a great addition to our suite of services. This technology, coupled with our full-service property management solution, will make Renters Warehouse America's largest full-service real estate investment company."
OwnAmerica's technology was developed over the last seven years for institutional investors at the highest level. Investors get access to data on market fundamentals, population trends, employment stats and price performance. They can then combine it with interactive calculators to underwrite investment properties at the professional level. All of this is made available to investors at no cost.
The new Renters Warehouse marketplace will allow investors to buy, manage and sell all in one place. They can now invest from the comfort of their computer by searching for properties and portfolios based on asset and investment quality. They will also have access to stock-like analytics and day-to-day property management, making Renters Warehouse America's first full-service real estate investment company.
"As new institutional investors continue to enter the SFR space, the need for a holistic solution from sourcing to leasing and managing and eventually monetizing through a single service provider has become vitally important," shared Anthony Cazazian, Renters Warehouse's Chief Investment Officer and President of Portfolio Services. "This highly strategic acquisition will allow us to provide a end-to-end service offering to our institutional and professional investor clients that is unmatched in the industry."
At the time of acquisition, OwnAmerica had over $21 billion in total assets on their platform, with over $200 million assets for sale. Renters Warehouse's 14,000 clients across the country will now have access to these assets and can easily build and expand their portfolio in only a few clicks. For sellers, the selling and buying process is discrete. Renters are not disturbed, meaning rental income isn't either. Selling commissions are also nearly half of what you'd pay with a traditional real estate agent.
"Investors in the housing market are independent, patriotic people who use real estate investing to create long-term financial security for the people they care about," explained Greg Rand, CEO of OwnAmerica. "There has never been a total solution to help them envision, plan, execute and manage a long-term investment strategy. We are incredibly excited to join forces with Renters Warehouse to create a first-of-its-kind solution. We are going to help millions of people own America."
Rand will be joining the Renters Warehouse executive team as Chief Strategy Officer and will be guiding the continued development of the marketplace platform, as well as building out and leading a team of local real estate investment agents in all Renters Warehouse markets to assist investors with their buying and selling decisions.
Renters Warehouse is the only property management company focused on single-family rentals to be rated by Morningstar Credit Ratings, a nationally recognized statistical rating organization. The company manages more than $3 billion in residential real estate, servicing over 14,000+ investors across 22,000+ residential homes over 42 markets and 25 states.
---
Back to Posts