Surprise! You're a Landlord!
Renters Warehouse Blog
Back to Posts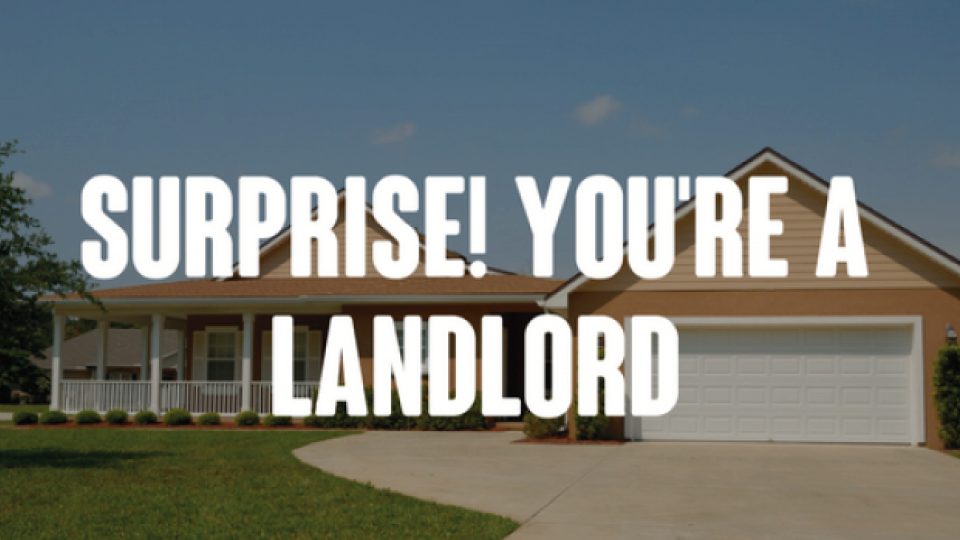 It's the news that everyone looks forward to hearing one day: "Congratulations, you're a...landlord?"
If you've suddenly found yourself the proud new owner of a rental property -we'd like to be the first to congratulate you! Despite some of the scary stories about damaged toilets and rogue tenants, being a landlord can be an exciting adventure -and more importantly, an excellent financial opportunity -a great way to grow your wealth.
As a new landlord, you've just joined the ranks of millions of people in the U.S. who are capitalizing on the nation's surging demand for rentals. Currently, there are more than 22 million landlords in the United States -and every day, approximately 500 more people in this country begin their own Rent Estate(tm) journeys.
Of course -owning a rental property isn't without its share of hard work, but with careful planning and the right approach you'll be able to set yourself up for success -and start reaping the rewards of your efforts.
Here's a look at how you can put your best foot forward -and make the most of this exciting opportunity!
Help! I'm a Landlord! What Now?
Make sure you hit the ground running. Head over to real estate investing websites like Bigger Pockets, Landlordology, and Invest Four More -and learn from others who have been there, and done that. Next, get your hands on some helpful books -like First Time Landlord, the timeless classic -Landlording, The Accidental Landlord, Landlording on Autopilot, and Renters Warehouse's very own -Rent Estate Revolution -all great books that will help to get you off to a winning start.
Equally important to knowing how to make money with rental property -is having a clear understanding of landlord-tenant law and being well-versed on your responsibilities and liabilities. As a new landlord, you'll want to brush up on your knowledge of the law, paying special attention to state regulations since these vary considerably from state to state. Online legal encyclopedia Nolo is a great resource; and they even offer a breakdown of landlord-tenant laws by state. You may also want to find an attorney who specializes in landlord-tenant law, and have them draft up some legal paperwork for you -tenant applications, screening procedures, and rental agreements, just to cover your bases and keep you in the clear.
If you're renting out your home -or another property for the first time, one of the primary things you should do is check into rental insurance. Insurance for a rental property is very different from homeowner's insurance, and you'll want to check with your insurer to make sure you're covered. You should also consider informing your tenants about the importance of renters insurance -which is designed to protect their belongings in case of fire, water damage, and more.
Tenants: Know What to Look For
We get it. You want to fill that rental as soon as possible. But don't make the classic mistake of tossing your keys to the first applicant that shows up! Your success with income property -is largely dependent upon the type of tenants that you end up with -so you'll want to take the time to thoroughly vet potential applicants, to ensure that only qualified renters gain access to your property. Create an airtight screening process, that outlines your screening criteria -and be prepared to run potential tenants through background, reference, and credit checks. Finally -a word of caution, make sure your policies comply with Fair Housing Laws, and avoid anything that could be considered discriminatory against a protected class. The law has recently changed in regards to the types of qualifying questions that you can ask, so make sure you're up-to-date with these guidelines to keep on the right side of the law.
Whether you own one rental or ten, being organized will help to make life much easier. Having systems for late rent, tenant screening, maintenance, emergencies, and more can help you to stay on track -both legally and financially, and can also help to prevent small issues from spiraling out of control. Develop a system that will keep you on track, and take advantage of online tools -such as calendars, bookkeeping software like Quicken, and online rent payment tools like eRentPayment to help simplify your job as much as possible.
Ask any landlord and they'll tell you -the rewards of owning rental property far outweigh the downsides. But don't make the mistake of going into it assuming that it will always be smooth sailing. Tenants could vacate unexpectedly, the roof will need to be replaced at some point, and you may encounter other unplanned expenses along the way. For this reason, it's important to save up some emergency reserves in case of a rainy day. Most experts recommend having enough to cover about 6 months of expenses. At the very least, you'll want to have enough to cover the mortgage payment and other expenses for a couple of months in case of vacancies, or to buy a new water heater when the old one goes out.
Consider Hiring a Property Manager
Finally, the all-important question: who's going to be managing your rental? While many first-time landlords automatically assume this role -you may want to consider hiring a reputable property manager -especially if your rental is out of state. A property manager can act in your stead to manage your property for you, and can handle all of the daily issues that arise, as well as the bigger concerns -like tenant sourcing and screening, rent collection, and even eviction -should the need arise. Just because you can go it alone, doesn't mean that you should. Keep some of your sanity, and outsource part of the work!
While it may seem overwhelming -jumping into the world of income properties, the good news is that it doesn't have to be. Thanks to the wealth of resources, tools, and services available for landlords today, you can outsource as much -or as little of the work as you'd like; making it easy to create a system that works for you. With the right approach you'll soon be generating income -and may even start thinking about adding more properties to your portfolio!
Are you a first-time landlord? Be sure to have a look at Renters Warehouse's Rent Estate(tm) Investor Resources -a wealth of information that covers everything from tenant placement to rental ads -and everything in between!
---
Back to Posts