Estimating Remodeling Costs for Potential Property Investments
Renters Warehouse Blog
Back to Posts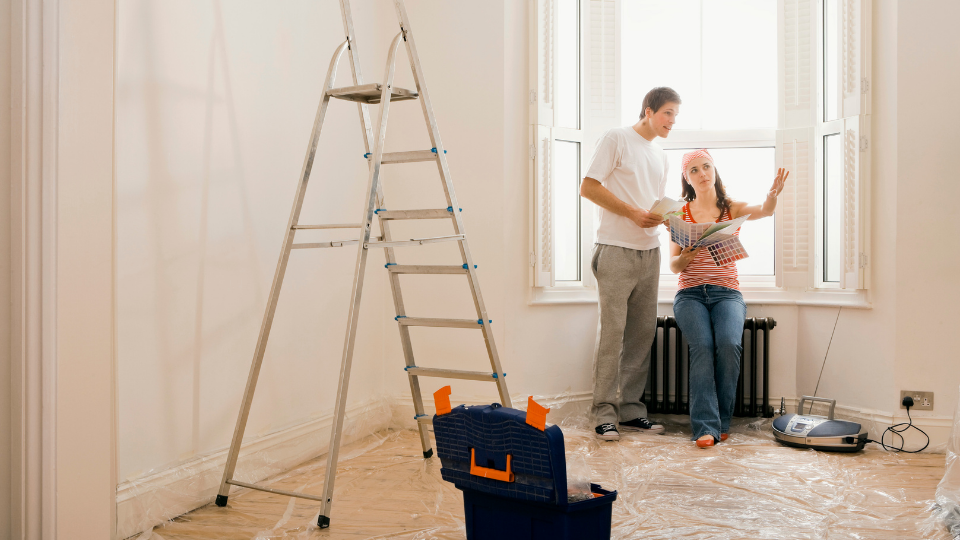 Estimating the costs of a rehab can be a tricky job.
On one hand, you want to get an accurate price so you can be sure the investment is worth it, but of course, you also don't want to spend too long doing it. After all, fixer-upper properties tend to move quickly, and don't stay on the market for long. Still, there's a lot that you can do to accurately assess the cost of a renovation project quickly and efficiently, giving you a good idea about whether a potential investment is worth investigating further.
The main goal with estimating costs for fixer-uppers, is to ensure that you're not paying over the odds for a property that's in need of repairs. When it comes to fix and flips, it's advisable to leave a 30% margin. This means that you should try not to pay more than 70% of the After Repair Value (ARV) of a property, factoring in repairs and improvements. When it comes to a property that you're planning to rent out, rather than sell, it's a good idea to ensure that you have a similar margin in place. You'll also want to put a value on your time. There's no point in paying $150,000 for a property that'll need $50,000 worth of repairs, for example, when you can purchase one that's ready to go for $200,000.
Here are some things to consider if you are looking to add the ability to quickly, and accurately, determine the costs of a remodel.
Know Your Endgame
First things first, you should determine your end goals for the property. Are you looking to improve every area of the home, are you just looking to make it livable, or perhaps something in between?
In order to determine this, you should consider the neighborhood and put yourself in your renter's shoes. Are they going to be expecting high end finishes? Do they want a freshly painted home? Will you be converting a bedroom into a ready-to-use office? Knowing what your end results need to look like will help you to determine what needs to be replaced or upgraded.

When you know your endgame, you'll also be able to research estimated remodeling costs before you even enter a home. If you have an approximate calculation on paint costs and painter fees according to square footage, you can view the home and have the price in your head at the drop of a hat.
Make a List
Before you take a tour, it's a good idea to make a list of all the areas you'll want to inspect when visiting the property. This should include major components such as the roof and foundation, as well as things in between such as the flooring or windows. Don't forget behind the scenes components as well, like the electrical system or the plumbing. While a professional inspection will be able to inform you about the exact state of these components, for now, you can get a pretty good idea about whether or not something will need to be updated just by having a good look at them yourself. Check the breaker boxes to see if they're original or if they've been updated recently. Turn on the faucets in the kitchen and bathrooms to get an idea about water pressure. Look at the plumbing under the sinks. Does it look original? If so, there's a good chance that the rest of the plumbing in the home may need to be upgraded as well.


Wondering what upgrades to avoid or include in your remodel? Read: Renovation Mistakes on Your Rental...And How to Avoid Them
Completely Tour the Property
Next up, it's time for the grand tour! Be sure to take pictures and make notes as you go along. Be sure to pay close attention to things such as the foundation and roof, areas that are often out of sight, but crucially important. Go down into the basement or crawlspace and check the walls for signs of cracking. Check the ceilings for staining, a sure sign of a leak. It's also important to also consider any landscaping costs you may be faced with. Make note of everything you see that you will need to repair, upgrade, or replace. If possible, include the square footage of each room. Often, you can find this information on the listing online.
Sometimes it helps to enter the home with the mindset of a potential tenant. What would you tolerate as a renter? What just wouldn't cut it and would cause you to move on to the next available home? What are your needs for the space? This must be anticipated as you do your walkthrough and calculate your remodel.
Condense Your List
Once you have a master list of everything that needs to be upgraded, you can then start commencing your repair plans. For this process, you don't need exact numbers, you just need an idea of overall costs in order to anticipate whether the investment will be worth it for you.
For example, if you notice many rooms need new flooring, try to keep the big picture in mind. Rather than getting into specifics on the color of carpet that you'd like in each room, calculate the square footage, and make a few phone calls to get a price on a good mid-range carpet option. You can always adjust your materials later if you find something that fits better and is in line with your budget. Right now the goal is just to price things.
Know the Average Cost
Something that can help in the long run is to have a master list of prices on hand. For instance, the price of a new mid-range fridge generally won't fluctuate too much, so if you know the price of a fridge and see that it will need replacing, you can automatically calculate that price in. Also knowing the price of carpet or laminate for a standard size room, or per square foot, will also help you be able to walk into a room and mentally calculate how much it will cost to upgrade that space. Having these numbers will help you quickly calculate a remodel without having to spend a lot of time running the numbers with pen and paper.
Factor In Additional Costs
Factoring in additional costs can help keep you as close to realistic in your estimates as possible. Aside from materials and labor you will want to include things such as permits, demolition costs, dumping fees and anything else you can think of. Though you may not anticipate these extra costs, factoring them in when estimating your remodeling fees will allow you some flexibility should anything arise during the process. You don't want "going over" to be a shock, should it happen.
Bring the Right Tools With You
Finally, bring along a calculator and a camera (or your smartphone!), along with a spirit level and a notebook. Having these tools on hand can help you to assess a potential property. Using a spirit level along the main wall can indicate whether the house is structurally sound, or starting to shift. A calculator will be a lifesaver when it comes to adding up potential costs. A notebook will allow you to make quick notes that you can get back to later.
See: Questions You Should Ask Before Investing in a Rental Property, to help get you started.
Being able to quickly calculate a price of a remodel can save you a lot of time and energy, especially if you have a general budget in mind. It all comes down to doing thorough research beforehand on estimated costs of repairs, and knowing the end goal of your property and what's within your budget. If you know a new roof isn't going to be in the budget and you see that the roof needs to be replaced when you get to the property, then you already know you can't afford the property and won't need to waste time doing any further inspections or calculations. If you DO find a property that checks out; and everything appears to be within budget, then you can know that the property warrants a closer look. At this point, you can move onto phase two of the journey, running the numbers, and assessing the local market to ensure that the property you're purchasing will generate returns that are in line with your big-picture goals.
Finally, once you've decided that a potential property may be right for you, you'll want to have a professional inspection done as well. Not all repairs or remodeling will be cosmetic, some will involve behind the scenes work such as electrical systems. A good inspection will be able to pick up on all of these things so that you can know exactly what you're in for when purchasing a property.
Ready to invest? Learn more about getting started with investment property by downloading your FREE guide: How to Find and Buy the Perfect Investment Property.
---
Back to Posts