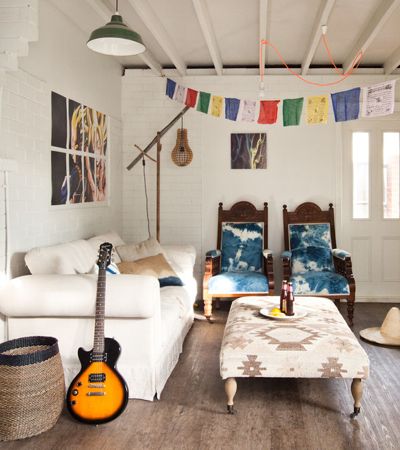 Your style is conveniently eclectic. You're proud to say that your home's signature style is eclectic but, on second thought, you didn't have much choice in the matter. Unless you move into a shared house that's already furnished, you and your housemates have the task of decorating the common areas, which can be very exciting -- that is, if you have the same taste.
Instead of making your living room a free-for-all, why not divide it up into sections for each of you to decorate? It's a shared space, after all. One of you could take charge of a plain wall, another an empty corner. It could be fun to organize a "housemates day" dedicated to scouring secondhand markets, vintage shops and sides of the road for accessories and furniture pieces that will work together in your space. Sure, the result may be a bit mismatched, but take pride in the fact that every piece is unique and works together as a whole -- just like you.
Tip: When choosing furniture, try to invest in pieces that can withstand high traffic. You'll be having a lot of visitors, and it's likely that these items will call more than one place home in their lifetime.
Keep an eye out for gems that your housemates will thank you for lugging home. It's a great way to show them you care and that you respect their place in your space. One of my housemates used to love decorating our house with old mannequins -- but we had to intervene when it got to five.
Your bedroom is often a hideout. Remember those days as a teenager when you would get home from school and go straight to your room and slam the door? I revisited this phase of my life when I moved into my first shared house. Suddenly terms like "sanctuary" and "retreat" went to the top of the list of words I wanted associated with my bedroom. Truth is, even if you love spending time with your housemates, we all need some quality me-time.
At the end of the day, your bedroom is the one space in the house that is yours to do with as you please. You can decorate it any way you like (landlord permitting), drop your bag, kick off your shoes and shut the door. To plan the perfect bedroom sanctuary, it's important not to feel boxed in, so first think about what you don't use the space for. For example, if you have limited space and tend to do your bills at the kitchen table, you may not need a desk in there after all. Do you need a TV in your room, or can you make do with your laptop and the shared TV downstairs? In fact, why don't you sell the one in your room and make some cash?
Once you have created as much space as you can, you can focus on what you do want to use the bedroom for and how you want it to make you feel. Think about what you need to escape from. For example, if you're not a morning person, the thought of running into your housemates as you scramble for your first coffee of the day may fill you with dread. Set up a coffee station in your room. Coffee machines have never looked better, and who says yours has to go in the kitchen when you're planning the room of your dreams? On the other hand, if you want a place to invite all your housemates into, make sure you fill up on beanbags and other comfy seats so that everyone feels welcome.
Hygiene is a question. Overlapping laundry and shower times can mess with routines. If your work starts at the same time as your housemates', there will be a rush for the shower, which often means delays or, worse, cold showers. In the laundry, your washing might have to be put off if your housemates have gotten in first.
Tip: Figure out a schedule that works for each of you. If you need to be at work at the same time, it might be beneficial for one of you to shower at night and the other in the morning. The same goes for laundry days -- work out a foolproof schedule to suit everyone. Please note, the most important thing you can do for one another is to keep the laundry line moving and to keep your dirty laundry to yourself in the meantime. The best investment you can make is a nice laundry basket that'll keep your smelly clothes under wraps until it's your turn.
Friends become foes during dinnertime in the kitchen. At dinnertime, you become a "hangry" (hungry plus angry) lesser version of your usual self. Everyone seems to want to cook at the same time, and waiting patiently for stovetops, pans and countertop space can mean dinner doesn't get on the table until 10 p.m.
A great solution is to consider cooking together. My housemates and I take on chef duty once a week and do the washing up together. If you live in a large shared house, use the same organization tactics as for the laundry and shower by mapping out cooking and washing-up schedules.
Tip: If washing-up duty is being neglected and becoming an issue, some quick tricks to avoid confrontation: (1) Agree firmly but fairly with your housemates that you will all take responsibility for your own dishes, and (2) remove as many unnecessary plates as you can to avoid a sky-high pile of dishes!
Your kitchen cabinets are booby traps. Everyone comes with an assortment of things when they move in. This means clutter can accumulate pretty quickly. One of the clutter hotspots is in the kitchen, where dishes, pots, pans and cutlery stack up. Opening a cabinet in a shared house can mean risking death by casserole pot as it falls from a high shelf.
Tip: Have a go at hanging your pots and pans. It's a simple solution to eliminate kitchen clutter, and you can buy hanging strips that won't damage the walls if you live in a rental. You could also make the most of display shelves by putting your best glassware, mugs and bowls out where everyone can see them.
Scavengers are everywhere. Food in a shared house is a hot commodity, and you may find your stash mysteriously diminishing when you share a kitchen. Coming home after a long day and discovering that someone has delved into your leftovers, used the last of your olive oil or snuck a bite out of your special snack can send anyone into a Ross'-sandwich-style rage.
You can let your housemates know you're not a sharer by labeling your things or owning a shelf in the fridge. Something that worked with my housemates was to share cooking essentials and staples such as olive oil, herbs and spices, and split the bill, but to pay for our own groceries, which we stored in individual cupboards. The most important thing you can do is to agree together, early on, what the food rules are. If you're sharing some items, make it clear what those items are. Are you going to share everything and split the cost? Are you going to buy separately, have separate shelves and use labels? Make sure there's no confusion, and your chocolate stash will be safe.
Empty toilet rolls are common. Are you constantly running out of toilet paper? This seemed to be a constant occurrence in every shared house I lived in, and after asking around, I found I wasn't alone. Whether it's just too much effort to change the empty roll, or someone simply doesn't acknowledge it in fear of having to buy a new lot, shared houses can suffer from major toilet paper crises.
While it's common courtesy to replace the toilet paper if you use the last of it, you could also stay one step ahead and do a housemate shop. Don't be shy; go for the jumbo pack of toilet paper. It's something you'll always need. If you're not prepared to fork out, make a house collection jar -- everyone puts in $5 a week, and it goes toward essential groceries ... and maybe even a house night out.
You're never alone. Living with people who work at varying hours means someone is always home, which isn't a bad thing. However, you may need to cut down on your "Let It Be" serenades, sweaty living room dance sessions and walks around the house in your underwear.
Embrace having people around. Turn off the TV and chat instead, get to know their friends, host parties. It's a fun and social time in your life -- go with it!
Courtyard or jungle? If you're lucky enough to live in a shared house that boasts a courtyard, it will become one of the big gathering hubs of the home. Without a gardener, it can become a bit of a jungle out there.
Tip: Take pride in the area and care for it just as you would the rest of the house. Plant an herb garden; get some chairs, a table and some fairy lights. As with all common areas, the best idea may be to give each housemate a section to care for (the barbecue, the alfresco dining zone, the veggie patch), and who knows? Come summer, your outdoor space may be the perfect spot for hanging out as a happy family.
More: 14 Things You Need to Start Doing Now for Your Spouse's Sake
Related Links: