Renters Warehouse Acquires Redneck Property
Renters Warehouse Blog
Back to Posts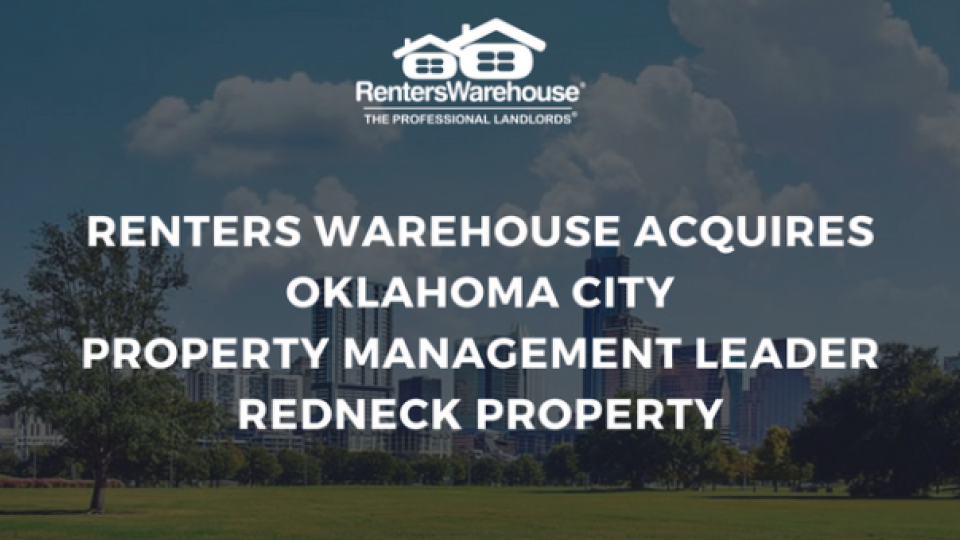 Renters Warehouse, one of the largest and most awarded residential property management companies in the U.S., announced today that they have acquired Oklahoma property management firm Redneck Property. Renters Warehouse's Chief Investment Officer & President of Portfolio Services, Anthony Cazazian, noted that this exciting and strategic acquisition is the second of many to come in 2017. "This acquisition expands our footprint into two key markets, Oklahoma City and Tulsa. It is another example of our ability to integrate acquisitions into our unique platform which is focused on offering a national property management solution with a single point of contact for all types of investors nationwide."
Redneck Property's founders Albert Bode and Trent Barden will become a part of the Renters Warehouse family, while continuing to run the new Oklahoma office, adding over 400 properties to Renters Warehouse's growing numbers. Currently, the company manages more than 18,000 homes for over 13,000 investors across the country, and more than $3 billion worth of residential real estate.
Despite creating a name for themselves in Oklahoma, Bode and Braden are both ecstatic to join the Renters Warehouse brand going forward. "We got to where we are today because of the tremendous support from our families and our friends. Today, our family is growing," explained Albert Bode. "Renters Warehouse will provide the resources that will allow us to really take things to the next level, resources we would never see locally here in Oklahoma."
Renters Warehouse's CEO Kevin Ortner is thrilled to welcome Redneck Property to the family. "We're on the lookout to purchase property management companies with the right balance of attractive rentals and experienced, high integrity, hard working operators. It was a perfect match," he explained. For Redneck Property, the same rang true. "We built our business around communication and relationships," shared Trent Braden. "That always came first and we saw these same core values in Renters Warehouse."
The team at Redneck Property has an important torch to carry for Renters Warehouse. "Thousands of properties later, we've never forgotten our roots," shared Ortner. "We were once just a couple of guys with a dream of offering something different - better - to Americans looking to rent their home. We saw that entrepreneurial spirit and drive in Albert and Trent and expect great things from them in representing the Renters Warehouse brand well in Oklahoma City."
Renters Warehouse exists to help homeowners and investors create wealth, financial freedom and retirement security through Rent Estate(tm). To learn more about Renters Warehouse or to find out how much your home will rent for, visit http://www.renterswarehouse.com today!
To inquire about selling your property management company or contracts, please contact acquisitions at renterswarehouse.com.
---
Back to Posts